Customer loyalty and retention play a key role in the success of any business.
But how can you build customer loyalty? What are some of the strategies to turn customers into your biggest advocates? We've got answers to these questions and more!
This blog post will teach you some of the best practices to provide ongoing value and get loyal recurring customers.
Customer Loyalty vs. Customer Retention
Customer loyalty and customer retention are both concepts focused on strengthening your relationship with your customers and increasing revenues. The longer and stronger the relationship with customers is, the more revenues you are going to generate over time.
However, there is a significant difference between these two concepts.
What Is Customer Retention?
Customer retention is focused on preventing your customers from leaving by delivering ongoing value through products and services that address their pains and contribute to your customers' success.
What Is Customer Loyalty?
Customer loyalty is a measure of how committed customers are to your company or brand.
Loyal customers are more likely to buy additional services from your company and stay with your company for a long time. Loyal customers are also your best brand advocates. They are also more likely to recommend your business to others, which can lead to new sales.
Generating strong customer loyalty will consequently increase customer retention.
How Can You Measure Customer Loyalty?
Net Promoter Scores (NPS) are a great way to measure customer loyalty. When you're looking for quick feedback, this is the tool that will let you know how satisfied customers are with your services.
The NPS is a data-driven tool that measures customer loyalty by evaluating the willingness of customers to recommend their favorite brands. The term Net Promoter Score was created in 2003 by Fred Reichheld, a partner at Bain & Company. The team at NICE Satmetrix provided data to help find the best questions for measuring customer behavior.
Reichheld and the Bain team found that high scores on one specific question correlate with renewals and positive references!
---
The results can be divided into three categories: 
Promoters – Customers that rate you the highest, 9-10, are your loyal customers who are most likely to give you a positive review and have a high Customer Lifetime Value (CLV). These are called promoters.
Detractors – Customers that rate you between 0-6 are your detractors. They are the opposite of promoters and most likely to cancel and give you a negative review.
Passives – These are customers that rate you 7-8. They are satisfied for now, but they might just as easily leave if they get a better offer. Passives are not included in the NPS formula.
Net Promoter Score Formula

Once you have the results of your survey, calculate the percentage of respondents from each category. Your Net Promoter Score is calculated using a simple equation: subtract the percentage of detractors from the percentage of promoters.
NPS it's a great tool because it lets companies see who are their most loyal customers, and which customers are not getting the expected outcome.
Detractors are customers whom you should follow up with right away. Find out where you've missed the mark, what are their expectation and agree on a plan to solve these issues if you want to reduce churn.
7 Ways to Improve Customer Loyalty
Deliver Excellent Customer Service
If you want to build customer loyalty, it's important that you offer great customer service 24/7. In today's digital world, with global customer bases, having someone on staff 24/7 is no longer an option, it's a requirement.
Customers are drawn in by friendly, knowledgeable employees who are able to quickly answer their questions and resolve the issues they have.
To deliver excellent customer service it's important that you provide your employees with ongoing training related to your products and how to handle specific customer issues.
The main takeaway is this; providing great customer service will help your company stand out from the crowd and build customer loyalty.
Offer An Affiliate (Referral) Program
You've probably heard the saying "word of mouth is one of the best advertising methods."
It's true!
According to Nielsen's 2015 Global Trust in Advertising report which polled more than 28,000 respondents in 56 countries, word-of-mouth is still one of the most powerful advertising methods.
In fact, a whopping 83% of respondents from all around the globe said they trust their friends' or family's opinions when making a purchase.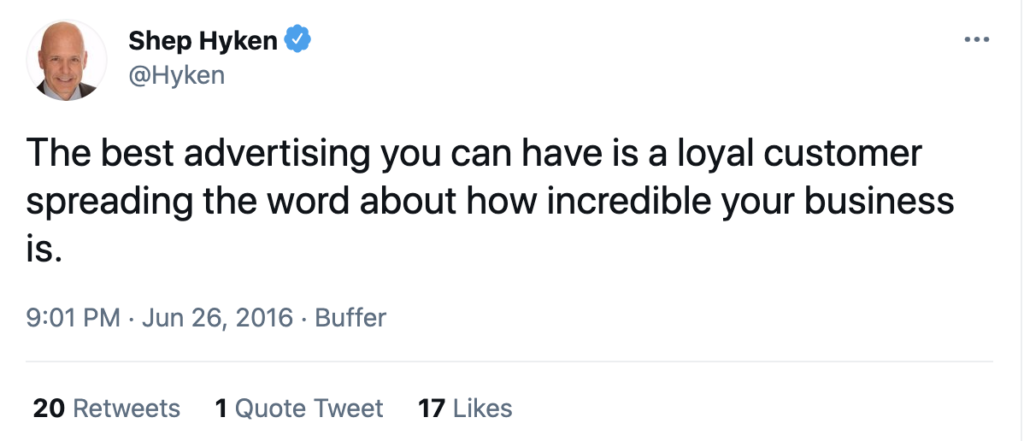 Customers are your best brand advocates and love sharing their experiences with friends and family. Why not reward them for bringing in new business?
An affiliate or referral program is one of the best ways to build and increase brand loyalty. It's an easy and rewarding way to get satisfied customers to talk about your business. With a referral program, you can easily spread more brand awareness and generate more revenues.
You can reward your affiliates by offering a commission on every sale that comes from their referrals or, reward them with a percentage of their next purchase. Either way, it's a win-win situation for both parties involved.
Keep in Touch Through Company Newsletters
Another way of improving customer loyalty is by sending out regular company newsletters. Sending out a monthly or weekly newsletter will keep your customers up to date on what's happening in your company.
What can you include in your company newsletter?
Relevant information about your products or services.
Helpful tutorials.
A summary of new blog posts.
New feature releases.
Customer use cases.
Updates about company events.
Contests or limited-time promotions.
PRO TIP: Newsletters are meant to be informative and helpful. Don't use your newsletters just as a means of up-selling or further promoting your services. You have to be able to provide consistent value to your readers if you want to keep them engaged and turn them into loyal customers.
Be Active on Social Media Channels
Social media is a great way to keep your customers informed on your latest updates. It's also a great way to keep them engaged with your company and services and stay top of mind.
PRO TIP: You don't have to be on every social media platform. Find the platform(s) that your customers use more frequently and focus on those.
If you are a small business just getting started, it's better to start with one single social media platform and focus on making that successful. Once you nail your social strategy on one platform you can expand to other social channels.
9 Ways You Can Build Customer Loyalty With Social Media
Engage with other user's posts.
Respond to comments.
Post updates about new products or services.
Share updates from your blog post.
Create contests.
Offer promotions for social followers only.
Share user guides or how-to tips.
Create social proof by sharing photos/videos/testimonials from other satisfied customers.
Keep your customers informed on industry trends by curating relevant content from other sources.
Don't Miss Out! Follow Us on Facebook or LinkedIn for the Latest Updates From SoftSys Hosting.
Make Customers An Integral Part of Your Business
Every company has a team that's in charge of testing new products and services. But who will better test your products than the actual users?
Your customers are the experts on their own needs. They know what they want from a product, what works for them, and what doesn't. So why not make your customers' feedback an integral part of your business?
Create better relationships with your customers by giving them the opportunity to contribute to the service roadmaps, beta-test new features before releasing them to the general public, and give them the tools to submit feature requests.
Take your customers' feedback seriously and make them feel valued. You'll be surprised how much more successful your company will become by listening to those who use your products most often!
Build a Customer-Centric Culture
Every company has its own distinct corporate culture that is shaped by a set of common beliefs and values. A customer-centric culture (also referred to as customer-first culture), creates an organization where customers are at the center of everything.
The internet it's packed with stories and insights from companies who have been successful in building a customer-centric culture in their organizations. Companies such as Zappos have gained many loyal customers due to their focus on customer needs and customer excellence.
Make sure everyone is aligned across your organization and incentivized to deliver the outcome that your customer needs. The goal of your employees should not be to make the customer temporarily happy. The goal should be to solve their issues and provide the outcomes that will help your customers succeed.
PRO TIP: Whether in service value or support, always give your customers a little more than what you promise. This will help your customer feel valued and will increase customer loyalty.
Encourage Customer Reviews
Asking your customers for reviews can seem intimidating. You may be worried that you'll come across as pushy, but the truth is that most people love to share their experiences with others. You just have to ask!
Another reason why companies don't often ask for reviews is they are afraid of bad reviews. If you offer a high-quality product and service, you have nothing to worry about. Even if you get some negative reviews the majority of your customers will be happy to recommend your services if they are also getting value from them.
And the truth is every company will have a disgruntled customer who could leave a bad review. That doesn't necessarily mean the company cannot be trusted. According to Bizibl Marketing, 95% of users suspect a company's reviews are fake if they only see 5-star reviews.
Good or bad, make sure to respond to every review. This will show customers you care about their feedback and value their opinions.
What Is the Best Time To Ask for a Review?
Don't ask for a review immediately after purchase. Give your customers a chance to use your product or service first. The best time to ask a customer to provide a review is right after you have assisted them with an issue or after or immediately after they have renewed their service.
You can also use a third-party app such as Trustpilot, G2, Reviews.io, Google My Business, and other tools to send review requests to long-time customers periodically.
Final Takeaways
Loyal customers are essential to the success of any business. They are your best advertising! To retain them, you need to be thoughtful about how you engage with your customers and provide ongoing value. The seven strategies we've outlined above will help you do just that!