Acronis Cloud Backup for Servers/PC
Cyber Protect Cloud Powered by Acronis Helps Businesses Achieve Comprehensive Data Protection.
Supports ALL Workloads – Virtual, Physical and Cloud With Lower RPOs and 50x Faster Backup & Recovery.
Cyber Protect Cloud Includes Data Backup & Recovery Along Cybersecurity (Protection From Malware / Ransomware)
Acronis Data Protection Services For Your Workloads With No CAPEX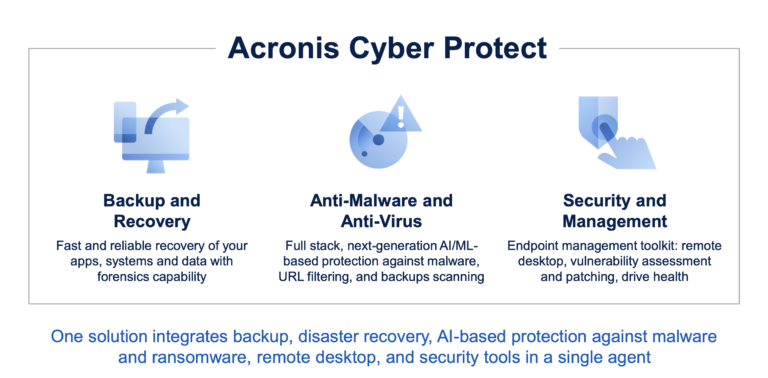 Enterprise Backup, Recovery & Cybersecurity Services
Complete Data + System Protection – Data & Malware / Ransomware Protection
50x FASTER CLOUD BACKUPS
Fast backup job execution ensures that your servers & data are backed up almost 50x faster than legacy backup solutions. Subsequent backup job just transfers incremental / changed blocks to improve efficiency.
ON DEMAND FLEXIBLE RESTORE
Restore your data (individual files / folders) or perform a full server bare metal restore to any available restore points with just a few clicks. You can also restore your individual files / folders or entire workloads along with running them as VM's directly from backups.
COMPLIANCE & SECURITY
We've got you covered with GDPR, PCI-DSS, HIPAA compliant solutions. Apart from robust physical access security to security, Acronis backup job encryption helps in keeping your data completely secure from intruders & hackers.
CLOUD BACKUP LOCATIONS
You have the option to choose from any of our enterprise backup locations in US, UK or Singapore along with Google Cloud or Azure as well. Stay in compliance of data storage regulations by keeping your data in your desired backup location.
CENTRALISED CLOUD CONSOLE
A hosted cloud backup management console provides you with a single panel to manage your entire data protection setup – backups, devices for Servers, VM's, Workstations, Office 365 or G Suite Accounts. Access anywhere from a web browser.
ANTI-MALWARE / RANSOMWARE
Integrated Cyber Protect Cloud helps to protect your workloads from malware / ransomware along with vulnerability assessment to keep your data protected from hackers and ensure that your business is protected from malware / ransomware at all times.
WORKSTATION / SERVER / VM
Cyber Backup supports backing up your workstations (PC / Mac), Physical Servers (Linux / Windows), Virtual Machines (Linux / Windows), Office 365 / G Suite Accounts. It also has MS SQL, Oracle, Exchange, Active Directory Application Aware Backups.
CPANEL & PLESK INTEGRATION
Acronis Cyber Backup has free extensions for cPanel & Plesk on Linux servers which supports backup of entire web hosting servers with self restoration by end customers of their files / databases / mailboxes. You can also perform full server restore.
IOS & ANDROID DEVICE BACKUP
Cyber Backup by Acronis also provides option to backup your iOS or Android-based mobile device in the cloud so that your files, contacts, pictures, etc. stay completely secure. You can access this data on backup management portal for anytime restoration.
Acronis Cyber Protection Features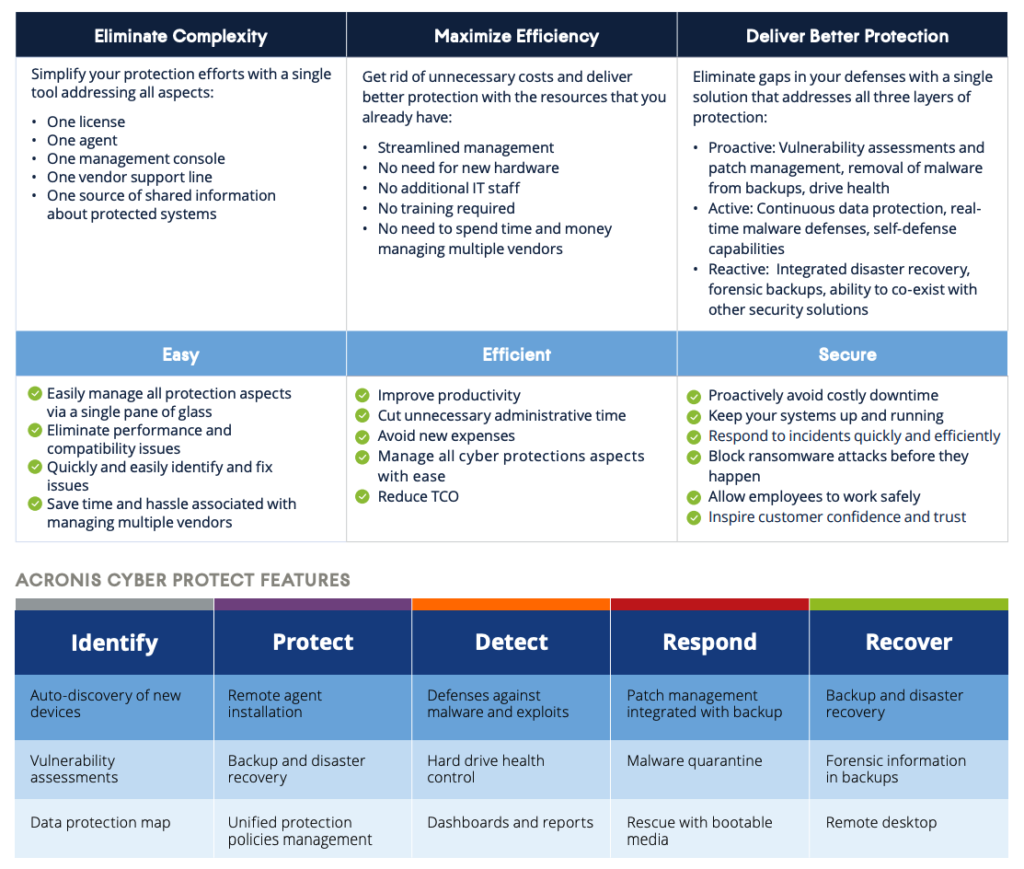 Acronis Cyber Protect = Backups + Endpoint Security
Cloud Backup & Cyber Security Pricing

Reliable Backup and Recovery. Full-Stack Next-Generation
Cybersecurity w/ Anti-Malware & Ransomware Protection
Acronis Backup & Recovery
Starts from
$15
/month
50GB – 5TB+ Backup Space
Unlimited agents (Workstations – PC/Mac, Servers, Virtual Machines, etc.)
Advanced Cyber Security
(Malware, Ransomware, Exploit Protection)
$2
/month per device
Workstations – PC/Mac, Servers, Virtual Machines
Why Does Your Business Need A Robust Cloud Backup Solution?
As per a report, 90% of businesses losing service or data for more than 10 days go bankrupt within 1 year & over 40% of such companies never reopen.
Safe Guard From Hardware Failure
Hardware & storage disks can fail at any time and you MUST have regular data backups available on separate set of hardware.
Natural Disasters
Natural disasters can strike at any time, causing unimaginable damage – having a copy of your data at separate geographic location minimizes the impact massively.
Data Corruption
Software incompatibilities, malware / ransomware attacks or sudden power loss can cause your important business data to be corrupted. Backups become extremely vital for recovery of data.
Human Error
Intentional or non-intentional human operations can cause deletion of business critical data. Enterprise backup services can help you retrieve accidentally deleted data reliably & easily.
Join thousands of satisfied customers using our dedicated hosting services globally.
I would like to offer my sincere appreciation and thanks to her efforts on the company Softy hosting wonderful and good dealings with us and offer thanks to the technical support and sales and all employees of the company We expect more
Director of Media Technologies
Absolutely Amazing! You just don't get technical assistance like this anywhere else on this planet! It's been years now and they just won't stop giving me oustanding and beyond competent, not to mention lightning fast, SERVICE and TECHNICAL SUPPORT! Great job, Nick, Rick, Harry and whoever else is over there at softsyshosting!
I've been involved with computers for a very long time, having wrote my first program in 1963 for a computer that is now in the Smithsonian. I built my first website back in 1996 or so. I've dealt with lots of hosting services and I have never dealt with any group of people as competent, friendly, and responsive as the folks at Softsys hosting. Give them a try, you won't regret it.
Please fill in the details & we'll get your free month setup!