A corporate culture can be described as a company's overall attitude towards the work environment, the people who perform the work and their interaction with their customers.
A great corporate culture can motivate employees, increase productivity, and contribute to the overall success of the company. A poor corporate culture can lead to poor employee performance, low satisfaction, and low revenue turnover.
Corporate cultures differ greatly from company to company. They start with a company's unique brand vision and are shaped by a set of common beliefs and values. They are the Do's and Don'ts of growing a business.
Let's look at five most popular corporate culture types and how to determine which one is yours.
5 Types of Corporate Culture
Clan Culture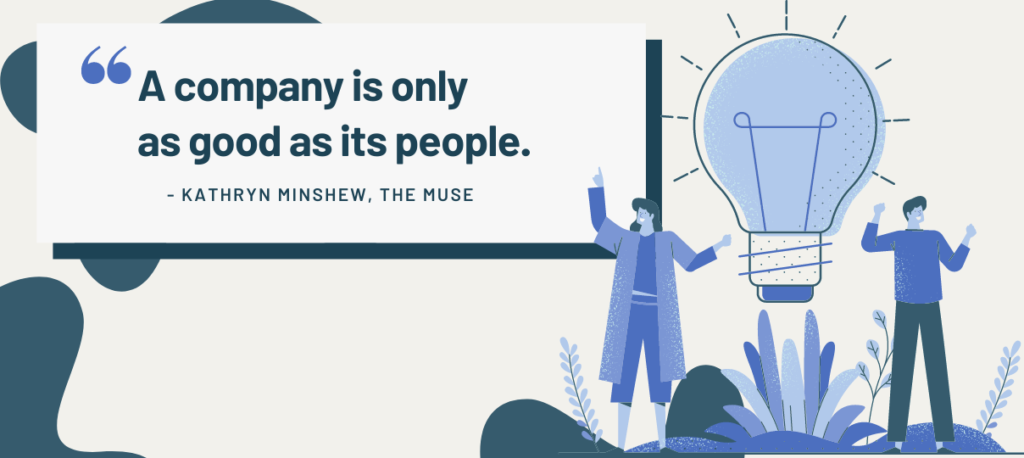 "A company is only as good as its people. The hard part is actually building the team that will embody your company culture and propel you forward."

– Kathryn Minshew, CEO & Founder of The Muse
A clan or team-first culture model relies primarily on building strong relationships with employees. This type of corporate culture is focused on open communication and employee engagement.
Your Company May Have a Clan Culture If:
Employees play a key role in the company's direction and success.
You have regular team meetings where everyone's input is welcomed.
There is a strong focus on employee training and development.
Team building is implemented and encouraged.
Culture fit is critical when hiring new staff.
The goal of the clan culture is to build trust among employees. By paying attention to and actively encouraging communication within your workplace, you can foster positive team-first cultures. This directly correlates with happier employees who are committed to the success of the company.
Example of Companies With a Clan Corporate Culture:
Elite Culture
An elite culture exposes its employees to a wide variety of innovative and cutting-edge ideas and brings about new advancements in their industry. This type of corporate culture is focused on fostering innovation and finding creative solutions to customer needs and wants.
Your Company May Have an Elite Culture If:
It's managed by effective leaders who are not afraid of taking risks.
Hires only the best of the best in your field.
Is focused on providing innovative solutions to existing problems.
It's a dynamic, entrepreneurial place.
Change and agility are highly valued.
Creativity and thinking "outside the box" are encouraged.
Employees make work their top priority often working overtime.
The goal of the elite culture is to achieve rapid growth and be at the forefront of its industry, by making innovation an inherent part of the company's mindset.
Example of Companies With an Elite Culture:
Horizontal Culture
The horizontal culture model, or flat culture, can often be identified in smaller companies and startups since it creates a family-like environment. This type of corporate culture has very little hierarchy and much like the clan culture is focused on collaboration, teamwork, and a team-oriented attitude. There is a high level of loyalty and commitment within companies with a horizontal culture.
Your Company May Have a Horizontal Culture If:
Job titles are less important.
There are very few management levels.
The CEO is often involved in day-to-day operations.
Everyone wears multiple hats.
Communication and teamwork are encouraged.
There's a focus on personalized support and interactions with customers.
The goal of the horizontal culture is to make everyone feel as part of the company and having a stake in its future success.
Example of Companies With a Horizontal Culture:
Hierarchy Culture
The hierarchy culture is the opposite of the clan culture. While a clan culture has a more relaxed, family-like structure, the hierarchy culture is very conservative and tightly controlled. In a hierarchy culture, you don't just get things done, you do it the "right way" following rigorous procedures. There are several layers of management and leaders are there to implement and ensure adherence to tried and tested processes.
Your Company Might Have a Hierarchy Culture If:
There is a clearly defined hierarchy with multiple layers of management.
There are strict rules and guidelines in interacting with other departments and customers.
There is a process-oriented and data-driven approach.
There is a formal dress code culture.
You have rigid office hours and organizational structure.
Career progression and pay are based on seniority.
The goal of the hierarchy culture is to minimize risks and increase results.
Example of Organizations With a Hierarchy Culture:
The Military
Banks
Most Government Organizations
Market Culture
A company with a market culture is driven by market share and increasing competition. Companies with this type of culture have a lot of external partnerships, investors or are focused on growth often through acquisitions.
Your Company May Have a Market Culture If:
It's a large company with high market penetration.
It's a result-oriented workplace focused on productivity and profits.
There are a lot of acquisitions and mergers.
It's a competitive work environment that prioritizes profitability.
The goal of the market culture is to surpass competition and become a market leader.
Example of Companies With a Market Culture:
About SoftSys Hosting
At SoftSys Hosting, we're focused on providing a world-class managed cloud, VPS, and dedicated hosting service to our customers.
We're passionate about customers and we train our staff to take a customer-first approach in everything they do.
With a team of 24/7 in-house experienced sysadmins, we take pride in providing unparalleled support so that you can focus on growing your own business.
Click the button below to learn more about SoftSys Hosting and how we can help your business grow.