The internet provides many opportunities to be successful, and starting an online business has never been easier. However, the competition can be stiff!
As a business owner, you have to work hard to stay on top of your game and grow your business!
This post will talk about five useful tips for developing an online business into something that will generate sustainable revenue for years (or even decades) to come!
The Basics of Online Business
First, let's start with the basics and talk about making sure your online business is well-known. If you have a website that no one knows about or never gets any traffic, it won't matter how hard you work because no one will know about it.
You need to be out there telling people about your business and what you have to offer!
This can be achieved by being active on social media, sending out press releases, and reaching out to local news stations.
You may also want to be sure that the design of your website is professional-looking, clean, and easy to navigate.
If your website is not meeting your expectations, consider hiring a professional web designer and content writer. They can help boost online business growth by creating a site that people want to visit and share.
Once you have a website that gets a fair number of visitors, follow these five tips for online business growth and development.
Have a Well-Defined Business Strategy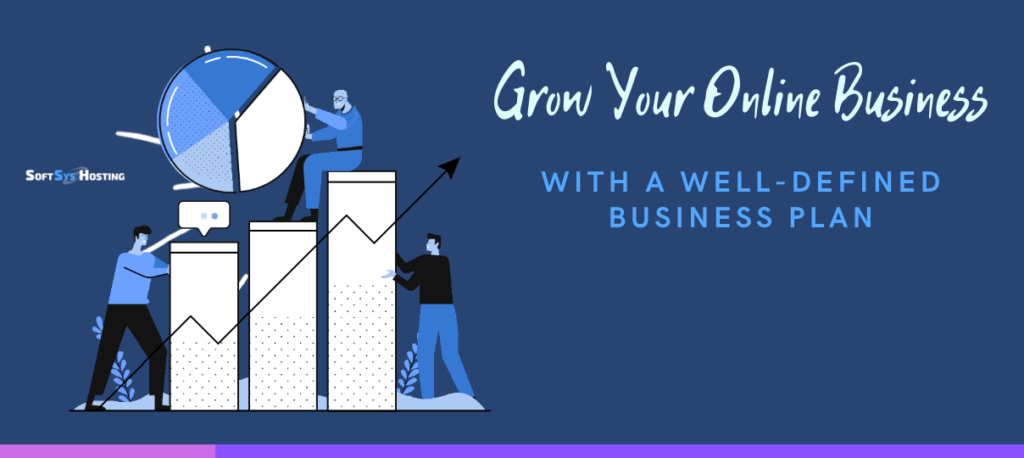 A business strategy is a formal plan that outlines the goals of an organization and how to achieve them. Business strategies are based on thorough investigation, market research, competitor analysis, and more!
Business strategy is key to online business growth and development! Without a well-defined plan, businesses may fail or won't be able to meet the needs of their customers.
If you want your small company to succeed long term, then make sure you work on defining:
Clear short and medium-term goals.
Monthly expenses associated with running the company.
The estimated income from sales.
Remember a well-defined business strategy can help you: define critical goals, measure success, and get the support you need from your team.
Do Your Homework! Perform a Competitor Analysis
Competitors are a great source of information. Learn from them!
Here are some important questions to ask and things to keep an eye on when analyzing your competitors:
What sales and marketing strategies do your competitors use?
What products or services are they selling?
What are their strengths and weaknesses?
How they are marketing themselves?
What they are selling more of?
How they are bundling services?
Who they are catering to?
This information is important as you can set yourself apart from the competition by providing something different, having a unique approach, or catering to untapped markets. The business opportunities are endless!
Invest in Customer Service
Customer service can either make you or break a business, particularly a small business.
Make sure you have a well-defined customer service plan that is effective and efficient. This includes:
Hiring the right people.
Finding out if there are any services your customers are not taking advantage of.
Getting customer feedback on their experience with your company and services.
Remember! A happy client who comes back time and time again will keep bringing new business too.
Ready to engage more with your customers? Check out these tips on How to Anticipate Customer Expectations and Gain Their Attention!
Promote Your Brand Properly
You don't want to be spamming, but you need people to know what your business is about and how it can help them. Here's what you can do to promote your brand the right way:
Incorporate a call-to-action into all of the content you produce so that readers are encouraged to take action (e.g., purchase or sign up for something) after reading the content.
Have a social media presence as you can use it to share information on new products/services, upsell existing offerings, etc.
Network with other businesses and groups to establish new business opportunities.
Remember, all these strategies are great, but they won't work unless your website can convert that traffic into paying clients or sales. Invest in a good website design and a premium web hosting service.
Not sure where to start? Check out these tips on How To Find a Reliable Web Hosting Provider!
Keep Up-To-Date With What's Trending
Finally, keep an eye on what's trending in your niche.
You can get many good ideas for new products and services that you may want to offer and stay relevant with customers when they are looking for options similar to yours.
Don't be afraid to invest in new products or business approaches!
Companies that have been in business for many years have often had to redefine themselves or pivot their business model. You can stay ahead of the curve by being open to new opportunities and ideas.
***
Now that we've covered the basics for how to grow your online business, we want to hear from you! How are you planning on growing your business this year? What other tips do you have?