Social media marketing is a great way to promote your business and grow your customer base. Through social media, you can engage your existing customers while also bringing your brand in front of new users. According to a report from April 2021 by DataReportal, an estimated 4.33 billion people are on social networks. That's over 55% of the entire population.
It's no surprise that marketers are noticing the benefits of social media marketing and allocating more resources to it.
In this article, our team at SoftSys Hosting will share some of the benefits we've seen from social media marketing. Additionally, we'll also share a few examples to help you get inspired and achieve success with your strategy!
What Is Social Media Marketing and Why Is It Important For Business?
Social media marketing (SMM) is a marketing strategy that uses social networks to promote a brand, product, or service – all while building relationships that will turn your followers into loyal customers.
We get inundated with emails, texts, and spam phone calls every day.
Quick! How many unwanted emails have you deleted today?
Unlike other marketing strategies that clutter your inbox, social media gives a chance to be seen by potential customers who are interested in what we're offering at our business.
Let's look at some of the ways you can use social media to grow your customer base.
How To Use Social Media To Grow Your Business
Nurture Leads
Your leads might not be ready to sign-up for your service yet, but that doesn't mean there won't be a future opportunity. It's been proven that people are more likely to buy from brands they follow on social media channels.
Use social media to keep in touch with new leads and old ones alike by staying top of mind through targeted posts. This makes it easier for your leads to recognize your company as a trusted source of information and reach out to you when there's a need for what you offer.
Increase Website Traffic
Social media is a quick and effective way to drive site traffic without spending money on ads, as you're able to share content with your followers. A common form of driving traffic to your website is by linking to your blog posts, support articles, and product pages.
Create Hype and Encourage Conversations
The quickest way to generate hype and encourage conversations on social media is through contests, promotions, and exclusive announcements that will get people talking.
Another excellent way for you to interact with your fans would be by commenting on their posts, asking questions, and making sure you respond when they comment back.
Build Brand Awareness
Get your followers to know you by sharing your company's story, events, milestones, mission, and values.
When you share stories about the people behind a business or the values behind a brand, you create an emotional connection between your followers and your company. And guess what? People are more likely to buy from companies that they identify with on an emotional level.
Reach Your Target Audience
Before social media and the internet, people used to advertise in newspapers. But the ad reach was limited by how many readers were getting a copy of that newspaper.
Fast forward to today, you can reach targeted audiences outside your geographical location easily through social media paid ads.
You can target audiences based on location, demographics, interests, behavior, keywords, and more. Then place an ad tailored for your audience so that you can get your message in front of the right people.
Access Real-Time Data Through Social Listening
Social media platforms provide a great way to stay on top of current trends, but it can be challenging sifting through all the noise. That's where "social listening" comes in!
Social listening is the process of monitoring and analyzing what's being said about your website or brand online.
It can help a business identify customer needs and keep track of new trends.
Social listening has become an essential tool for understanding what people are talking about online and how their opinions may impact your business or marketing strategy.
Popular social listening tools include Hootsuite, Brandwatch, and Mention.
Create Loyal Customers
Social Media Marketing is a great way to make your customers feel like they are part of the conversation. They're more likely to be invested and engaged if you let them know that their input matters!
Here are some ways to build trust and increase loyalty within your existing customer base on social media:
Create content relevant to their interests or industry.
Share product announcements.
Highlight customer successes.
Address community questions.
Share customer testimonials.
Learn more about your customers through polls and surveys.
Create conversation-starter posts.
Get them involved in launching new products by asking for feedback.
Want even more tips for creating loyal customers? Check out our "7 Ways To Improve Customer Loyalty and Retention" guide to learn how you can make your customer base a more profitable one.
Examples of Businesses Who Use Social Media Successfully
First off, it's essential to acknowledge that the social media landscape is constantly changing, so best practices are always evolving.
There are so many different ways to achieve success. You have to find what's right for your business and enjoy the process!
Let's explore the companies that know how to have fun with their social media marketing while also engaging users and increasing brand awareness.
FAST.CO
Fast is bringing much creativity to their hassle-free checkout process. Here's a post from Fast's Twitter account before a product launch.
They encouraged Twitter followers to retweet the picture in exchange for having their own profile picture edited with a "Fastronaut" helmet.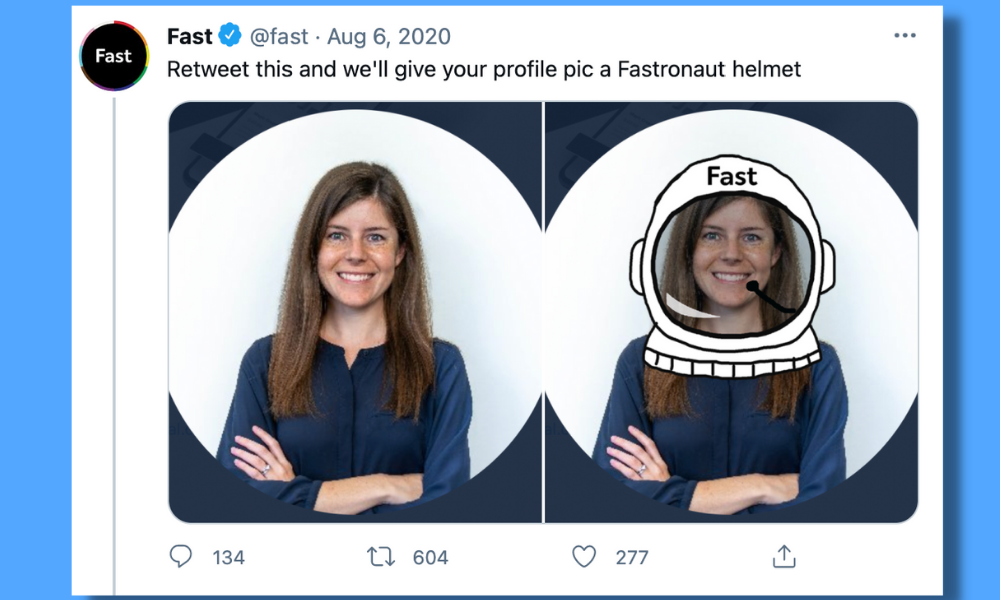 This creative and fun tweet got them hundreds of retweets and a lot of exposure.
Twitter user @guptast1c and her puppy are making a fashionable statement in their Fastronaut helmet.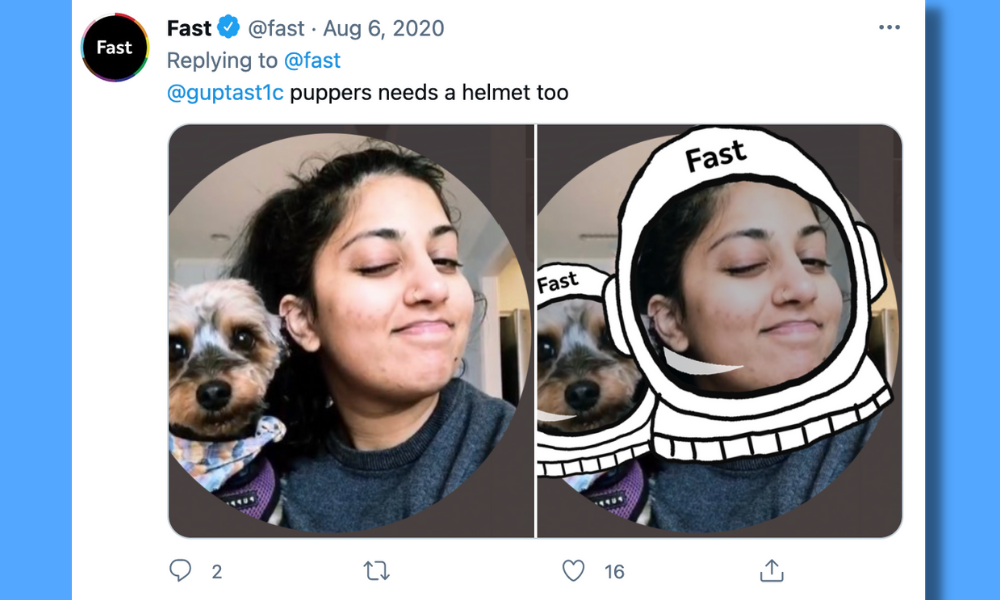 GYMSHARK
The popular fitness clothing company Gymshark creates not only functional products but also creative, fun games for its Facebook community.
One question they posed to their followers was, "Would you rather have an endless supply of the best coffee in the world or best snacks in the world, at your office?"
The post got over 18K likes and nearly 500 comments from the fans on social media.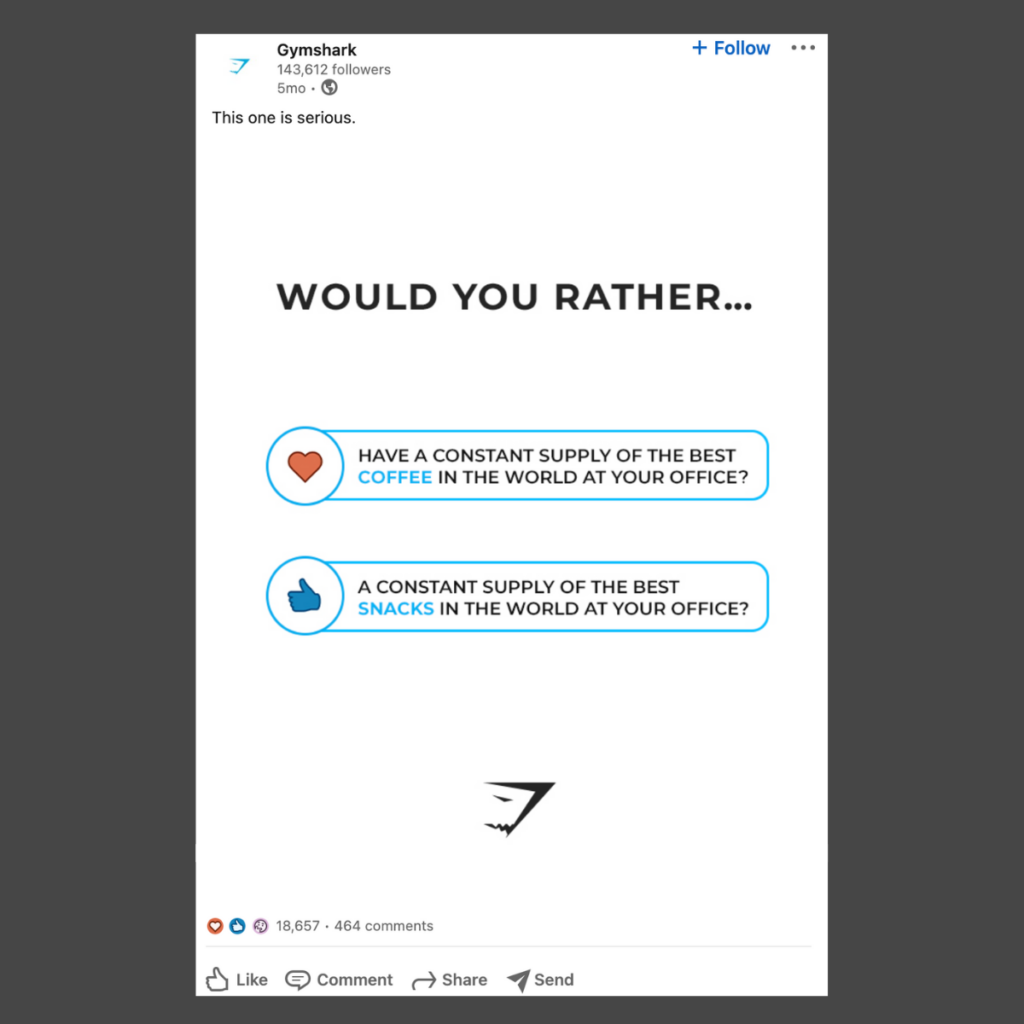 MICROSOFT
Microsoft took us on a trip down memory lane with this image about Clippie. So many Microsoft users loved the now-discontinued office assistant. No wonder their post got 6K likes!
Nicely done, Microsoft!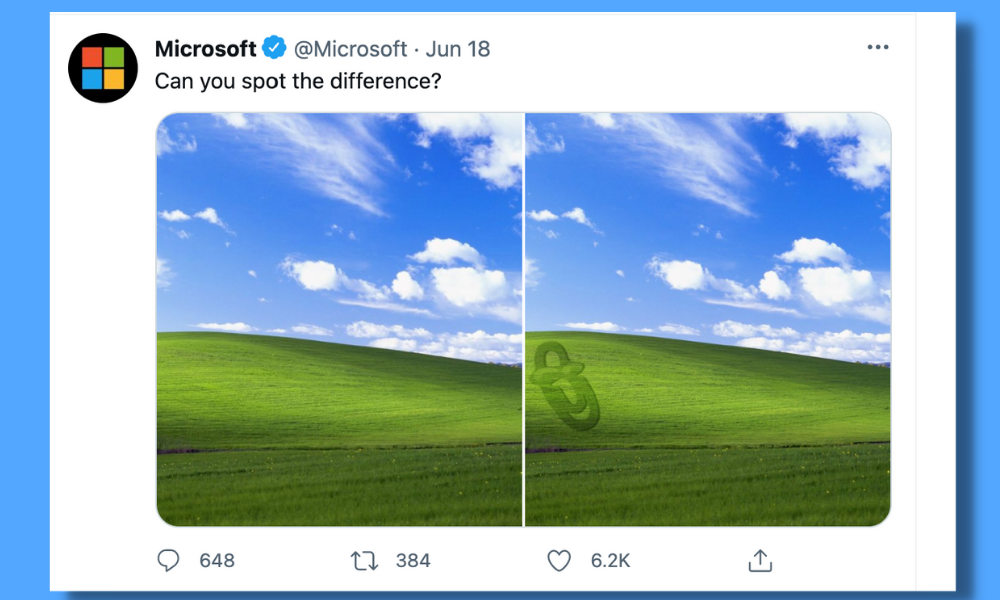 There are many other examples of successful social media campaigns that you can get inspired by. But the bottom line is, don't do what everyone else does – find what works for you and your followers!
Conclusion
As we've seen in this article, social media can be a powerful tool for businesses of all shapes and sizes.
Whether you're looking to generate buzz, reach new potential customers or just keep your current ones interested in what's going on with the company, social media can be an invaluable resource for your marketing strategy.