If you are in the market for a successful online business idea, you've come to the right place. We have created a list of some of the most popular online business ideas for 2021-2022, and we know you'll love them!
The internet is a powerful tool. Alongside computers, it changed the way we interact with each other, the way we work, the way we go about our daily lives. It opened doors to many new business ideas that were difficult to imagine back in the '90s when people started buying computers.
You can now build a successful online business from anywhere in the world. If you've got something good to offer, all you need is a good internet connection and a computer.
If you're looking to start your own company, these popular online business ideas should help get the ball rolling.
Popular Online Business Ideas You Can Start Today
Become a Freelance Content Writer
With this type of work, you can write from anywhere and set your own schedule. You'll be able to make money by providing valuable information to people who need it. It's an exciting opportunity that will allow you to grow as a writer and entrepreneur while being your own boss.
Popular Forms of Content Writing Include:
Blog Posts.
Case Studies.
Email Templates.
Copywriting (ads, website copy).
Ghost Writing (content credited to other people).
User Guides.
eBooks.
Social Media content.
If you are new to content writing the internet is packed with great books and courses on this topic.
Some of our favorites resources on content writing are:
On Writing Well – a book by William Zinsser, will teach you how to write well. This book is packed with examples and will give you a clear understanding of the fundamentals of writing non-fiction.
Unlearn Essay Writing – by Julia McCoy is a great course for new writers. Julia's course will teach you the fundamentals of online content writing. It also includes a ton of resources, templates, and tools you can use in your journey to becoming a successful content writer.
Writer's Digest University – has everything, from writing workshops to self-paced courses, to help you boost your freelance content writing career.
Offer Consulting Services to Small Businesses
Consulting for small businesses it's a great way to earn revenue. On top of that it gives you the ability to learn many of the ins and outs of running a successful business.
A business consultant is an expert in their field and can provide advice to companies that need some help growing or getting started. Consulting services can include a wide range of topics, including marketing, leadership, business development, product development, technology. The list can go on, it's up to you to find what you excel at.
While traditionally a lot of the consulting services were done face to face, today this type of business can easily be done online through popular collaboration tools.
Some of our favorite collaboration and project management tools and solutions are:
Google Workspace

(Google Meet, Google Drive, Google Sheets, Google Docs).

Microsoft 365

(Microsoft Teams, Outlook, Microsoft Excel, Microsoft Word, Microsoft Planner).
Airtable.
Atlassian Tools (Jira, Confluence, Trello).
Clubhouse Project Management.
Become a Virtual Assistant
Working as a virtual assistant (VA) offers the perfect opportunity to start your own business. You can work from home, set your own hours, and enjoy the flexibility of working with clients all over the world.
The requests for virtual assistants have been growing at a rapid pace, especially since the Covid-19 pandemic.
A virtual assistant is the perfect solution for companies that:
Need assistance with only a specific project.
Want to save time by delegating smaller tasks.
Want an extra set of hands without having to hire another employee.
As a virtual assistant you can do anything that a personal assistant would do:
Manage a company's calendar.
Schedule appointments.
Manage their emails.
Respond to phone calls (using VoIP – Voice over IP).
Data entry.
Marketing and social media management.
Create & Sell Digital Products
Knowing where to start when dealing with a project outside of your area of expertise, can be overwhelming. Sure! There is a ton of information available online but research takes time and then you need to figure out how to implement what you've learned. That's where experts and creative minds come in.
Digital products are becoming increasingly popular because they allow anyone with expertise in a specific process or department to share that knowledge with others who may not have the same level of experience.
If you have valuable insights to share or have a knack for creating digital assets, this is the perfect opportunity to create and sell your products online.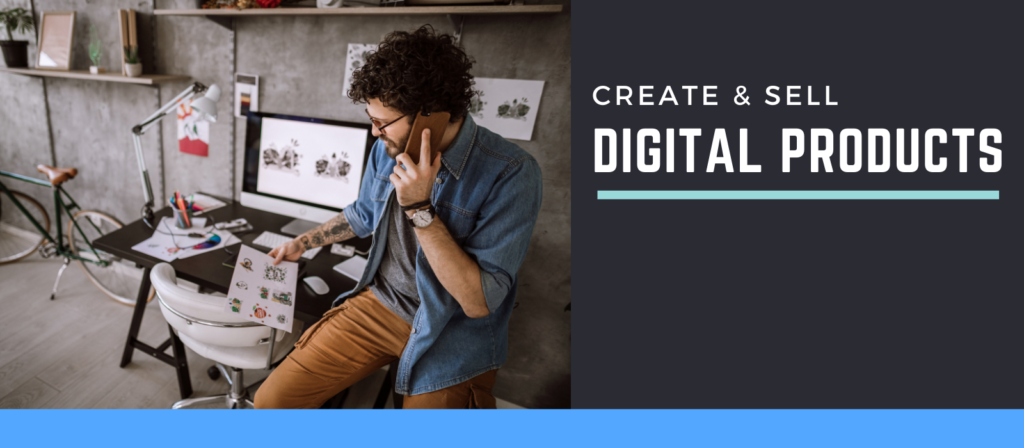 Start by doing a self-assessment. What are you passionate about, what do you have experience with, what are you secretly good at?
Once you have identified your top skills it's time to start creating.
Popular Digital Products Ideas:
Online courses.
Templates (email, resumes, marketing, social media, brand awareness).
Calendars, planners, and organizers.
"Done for You" spreadsheets.
Frameworks.
Checklists.
Playbooks.
Workshops.
eBooks.
Online graphics.
Logos.
Digital art.
You can sell your digital products on popular marketplaces such as Creative Market, Etsy, Udemy, Skillshare, or, you can create your own online store.
Build an Online Store
If you would rather sell your digital products on your own website, without working with 3rd party websites, you can start your own online store.
The internet is a hotbed for business, with 7.9 million online businesses already in operation around the world! However, there is plenty more room to grow.
To build your online store:
Identify your target customers – what industry are they in, what age group, which states/countries, what is their job function, what are their pain points.
Purchase a

domain name

for your online store.
Choose an

eCommerce platform

.
Find a

reliable hosting provider

.
Build and launch your online store.
Work on your promotion and marketing strategy.
Check out our "Step-by-Step Guide To Starting an Online Store" for a detailed overview of these steps and all the things you need to consider when starting your online store:
Become a Creator on Patreon
You know those cool people on social media that have tons of followers and always seem to be having a great time? They always share small tidbits of valuable tips. But did you know many of them might also be doing awesome deep dives into those topics using Patreon?
If you are an influencer or a well-known speaker you can make money by becoming a content creator on Patreon. This membership platform makes it easy for creators to get paid and offers a great way of monetizing content online. Content creators earn monthly payouts from their supporters, called "patrons."
You can create any type of content from early releases, exclusive content, and videos, podcasts, behind-the-scenes type of content, mini and micro-courses, templates, frameworks, and more.
Patreon allows creators to set up multiple tiers based on how much people pledge per month (the more you give, the better your rewards).
Some of our favorite Patreon creators are:
Michael Laws – the creator of "Teaching Tech" shares technology-related content, tips, and tutorials to ramp up your technology skills.
Shannon Morse – the creator of "ThreatWire" provides access to news about cybersecurity, privacy, and online threats in addition to exclusive rewards.
John Bonini – creates "Some Good Content" and shares valuable insights on everything from planning, writing, and optimizing content.
To start creating content on Patreon, simply choose one of their available plans.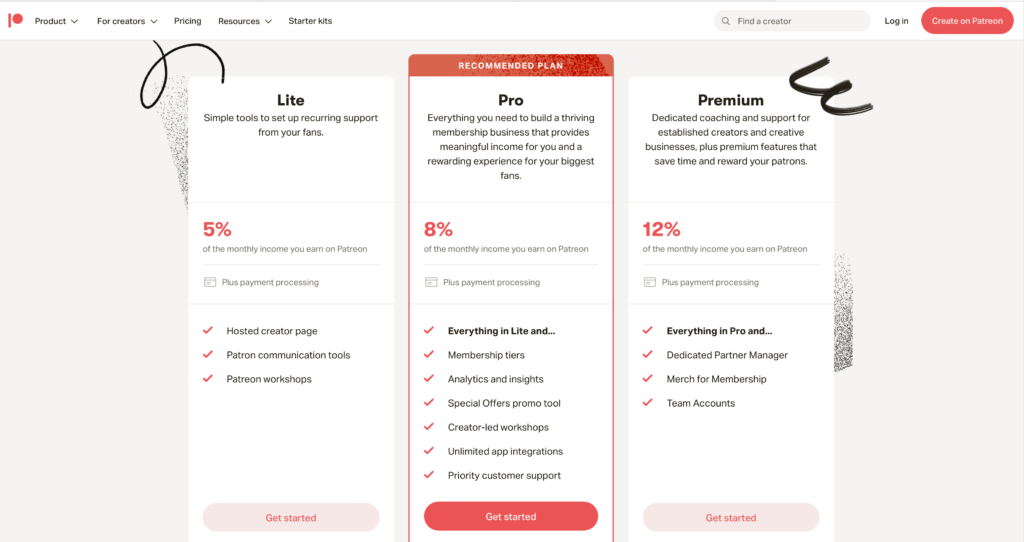 A Patreon University (Patreon U) is available to educate creators on how to use Patreon and run a successful business.
We hope these online business ideas inspire you to start your own company in 2021-2022. Whether you're looking for a side hustle, or want to make the jump into full-time entrepreneurship, it all starts with an idea.