It's no secret that IT infrastructure plays a key role in the success of any business. Can you try picturing a scenario where your IT infrastructure that hosts your business-critical application or website fails? Imagine the time it would take to restore your data and apps. You may be losing thousands of dollars or even be out of business before you have a chance to be back online.
As the digital landscape continues to evolve, businesses need to have a secure and reliable IT infrastructure in place.
Moreover, they need an IT infrastructure that is flexible enough to adapt to their ever-changing business needs, yet robust and resilient enough to withstand potential system disruptions.
What Is IT Infrastructure?
The term IT infrastructure refers to the underlying framework for how technology services are delivered. These technologies include servers, storage devices, routers, operating systems and software applications, and other tools that support business processes.
The purpose of a critical IT infrastructure is to ensure business continuity by ensuring that you can run your business smoothly without any glitches or interruptions.
What Are the Key Components of IT Infrastructure?
Every IT infrastructure has key components that need to work together. The two main groups are hardware and software:
Hardware – includes everything from facilities, data centers, servers, storage devices, network switches, routers, to the physical workstations or laptops.
Software – includes operating systems (OS), web applications such as PHP or Java applications, database systems such as MySQL, PostgreSQL, Content Management Systems (CMS) such as WordPress or Joomla, Enterprise Resource Planning (ERP) & more.
Types of IT Infrastructure
There are two primary types of IT infrastructure:
Traditional IT Infrastructure
A traditional IT infrastructure consists of physical servers and desktop computers that are typically installed on-premise for a single company or organization.
Benefits of Traditional IT Infrastructure
One of the major benefits of traditional IT infrastructure is increased security. With all hardware being set up on-premise and access being restricted, there are fewer risks for vulnerabilities. Increased data security and compliance requirements are the reasons why some organizations might still opt for this type of infrastructure.
On the other hand, it is more expensive to set up and maintain traditional IT infrastructure. It requires large upfront investments and a dedicated IT team within the organization that can maintain the infrastructure. Changes to resources or software upgrades are also not as flexible as with a cloud infrastructure.
Cloud Infrastructure
A cloud infrastructure, also referred to as Infrastructure-as-a-Service (IaaS), is an infrastructure that can be provisioned and managed over the internet from anywhere in the world! IaaS it's one of the three main types of cloud computing service models along with Software-as-a-Service (SaaS) and Platform-as-a-Service (PaaS). In a cloud infrastructure, hosting providers can deliver resources that are typically bound to physical hardware, virtually, in any location around the world that is accessible via the Internet. The process that makes this possible is known as virtualization technology.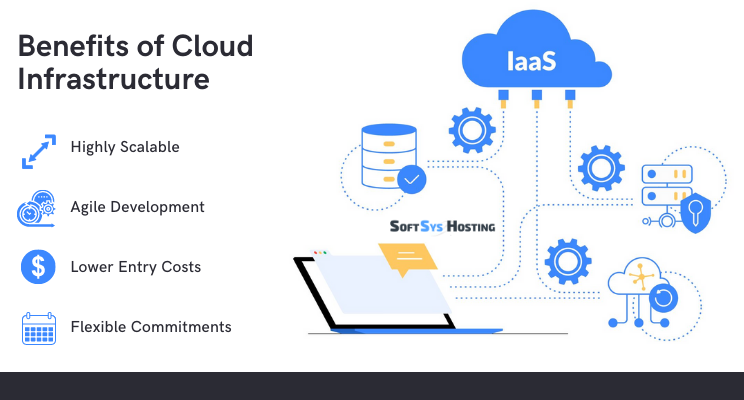 Benefits of Cloud Infrastructure
Lower Cost – A cloud infrastructure requires a lower upfront investment since the hosting provider is responsible for acquiring and maintaining the underlying hardware.
Flexible Commitments – Most hosting providers will offer flexible terms of contracts with monthly, quarterly, or annual billing options. Some services might even include a pay-as-you-go billing model.
Improved Agility and Flexibility – Thanks to the cloud, you can now have your software and application up-and-running in no time. That means small businesses and start-ups can remain agile with their IT needs while also being able to use resources at a much lower cost than if they had invested in traditional IT infrastructure. Similarly, businesses can use their time more wisely by being able to quickly set up multiple virtual machines from different locations around the world. In other words, you no longer have to deal with all the heavy lifting that comes with setting up and maintaining your own servers.
More Efficient Resource Scaling – In a cloud infrastructure, you can easily scale your business without having to worry about what type of equipment you'll be using down the line. You can scale servers vertically (upgrade specific resources) or horizontally (add more servers) as needed. When you need more computing resources for your business, you or your hosting provider can easily upgrade/downgrade resources, typically with just a few clicks.
Minimize Downtime, Maximize Success!
Network availability, or uptime, is one of the critical features to look for when choosing a web hosting provider. A study performed by Gartner in 2014, estimated the average cost of downtime to be $5,600 per minute, well over $300K per hour.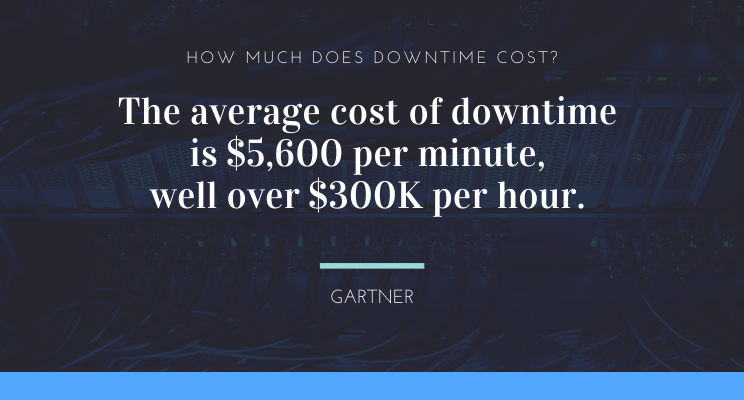 These numbers are reinforced by a 2019 survey by Information Technology Intelligence Consulting (ITIC). In their 2019 Global Server Hardware Server OS Reliability Report, which polled over 1,000 businesses worldwide, 86% of the respondents indicated that one hour of downtime can cost their organization $300.000 or more.
Furthermore, from the 1,000 businesses polled by ITIC, almost 300 indicated the cost of one hour of downtime exceeds $1 million.
Best Practice: To maintain critical business functions or quickly recover in the event of an unplanned downtime all companies and organizations should have a Business Continuity Plan (BCP).
Why Every Business Needs An Effective Business Continuity Plan
A business continuity plan will outline the procedures that you need to follow to be up and running in the event of a major infrastructure disaster or unplanned downtime.
There is a common misconception that natural disasters are unlikely to affect a datacenter. Anyone who has ever lost data due to natural disasters knows it can happen at any time. The recent fire at the OVH datacenter in Strasbourg, France is a clear example of this.
Having a business continuity plan can save your business not only millions of dollars but years' worth of work.
Tip: Think of a business continuity plan as a checklist that you can follow to bring your website and applications back online in the event of a major natural disaster or cyberattack.
Five Key Services to Improve Website Availability
Along with the business continuity plan you should consider the following key services when thinking of your IT infrastructure:
Service Level Agreement (SLA) – Your web hosting provider should have an SLA of at least 99.9%. Anything less than "three nines" is something to be concerned about.
Redundancy – Verify that the hardware that your IT infrastructure runs on has an additional redundant layer to eliminate single points of failure.
Uptime Monitoring – Having a monitoring system in place will help you track availability and know right away if there's an issue. SNMP and PING are commonly used at the server or router level while advanced monitoring tools can be set up for HTTP/SMTP/SQL services.
Backup Policy – Make sure you always have at least one automated backup policy with multiple days or even weeks of backup retentions.
Best Practice: In addition to automated backups keep also an additional local copy of your critical data. You can never have too many backups!
Disaster Recovery Plans (DRP) – In a major disaster, such as the OVH datacenter fire, or unplanned downtime you will want to have a Disaster Recovery Plan in place. These can vary based on an organization's requirements.
An effective way to implement a disaster recovery plan is by using replicated servers. With replicated servers, you have an identical copy of your primary server that can be spun up in the event of a disaster. Servers can be replicated:
In the same datacenter – which would ensure that your websites are up and running in the event in which the underlying hardware that hosts your primary server fails.
In different datacenters/locations – this adds an additional layer of uptime protection, in case of a major disaster that affects the entire datacenter, as in the case of the OVH fire.
The Disaster Recovery Plan and Business Continuity Plan are both designed with maximum availability in mind in case of a major disaster or cyberattack. The primary difference between them is WHEN they are implemented. A Business Continuity Plan will focus on keeping your business up for as long as possible DURING a major incident while a Disaster Recovery Plan is focused on bringing your website/applications up as soon as possible AFTER a major incident.
Conclusion
Today's businesses need more than just an IT team, they need a reliable hosting infrastructure and the tools and means to ensure continuous data availability.
Hosting critical websites and applications can often be a burden for businesses, but it doesn't have to be. By having a Disaster Recovery Plan and Business Continuity Plan plan in place you can ensure that your website is always up and running in the event of a disaster.
About SoftSys Hosting
At SoftSys Hosting we use 100% redundant Juniper network devices that eliminate single points of failure and can handle more packets with higher throughput.
With a team of 24×7 in-house experienced sysadmins and a 99.9% uptime guarantee, we take care of your entire IT requirements so that you can focus on growing your business.
If you are looking for high availability and disaster recovery solutions from a reliable web hosting provider, please get in touch. We'd love to learn more about your business and provide solutions that will empower your team to accelerate growth.