More employees are working remotely in 2021 than ever before. COVID-19 has dramatically changed the way businesses operate. Our workplace is no longer limited to a business's physical office. We can work from anywhere using any number of devices from laptops to mobile.
According to the 2020 survey conducted by Gartner on over 4000 employees, 48% of employees will continue to work remotely post COVID-19.
They call it the "new normal".
In order to continue to work efficiently and maintain productivity, we require tools that can simplify our daily tasks and make it easier to collaborate in a remote world.
This is why we are excited to announce … drum roll please … the availability of Google Workspace (formerly G Suite) services at SoftSys Hosting.
What is Google Workspace?
Google Workspace is a suite of integrated apps designed to enhance the productivity, collaboration, and security of your team.
Google Workspace provides you with all the tools you need to communicate and collaborate efficiently, all from a centralized location.
What's Included With Google Workspace?
Google Workspace includes all the popular applications that you've been familiar with, Gmail, Calendar, Drive, Chat, Meet, and more.
Google Workspace Included Applications
Gmail – the popular email client on your own custom domain.
Meet – secure and reliable video conferencing solution.
Chat – direct 1:1 messages or group conversations.
Calendar – shareable online calendar.
Drive – secure storage and file sharing.
Docs – popular online word processor.
Sheets – smart, secure spreadsheets.
Slides – online presentation app.
Forms – custom forms for surveys and questionnaires.
Sites – to build internal projects or public websites with no programming or design skills.
Keep – note-taking app to quickly capture ideas and brainstorm.
Currents – create online communities and improve internal communication (formerly known as Google+).
Apps Script – rapid, low-code application development to create apps that integrate with Google.
Cloud Search – AI-powered app to search and retrieve information across all your Google apps, including Gmail, Docs, Drive, Calendar.
In addition to these apps Google Enterprise Plus users also have access to AppSheet PRO. AppsSheet allows users to build apps without the use of code, for rapid application development.
Google Workspace Security and Management
Admin – manages your Google Workspace users, devices, and security on the go.
Endpoint – enables network managers to keep data secure on end-user devices by managing screen lock, disk encryption, enforces passwords, and more.
Vault – data retention and eDiscovery tool, enables users to retain, hold, search and export Google Workspace data.
Work Insights – reporting tool that gives you insights on Google Workspace adoption, work patterns, and collaboration within your organization.
Google Workspace Plans and Pricing
Google Workspace starts as low as $5.90 per user per month and it's available in two editions:
Business Edition (up to 300 users) – designed for personal use or SMBs.
Enterprise Edition (unlimited users) – geared towards larger organizations.
With multiple plans within each edition, Google Workspace can meet the needs of any user organization.

SoftSys Hosting Advantage
You might be asking yourself why purchase Google Workspace through SoftSys Hosting. We've bundled the flexible and easy-to-use Google Workspace plans with the celestial support offered by SoftSys Hosting.
When you purchase a Google Workspace plan through SoftSys Hosting you get:
More time to test the service.
24/7 technical support assistance.
Discounted migration assistance.
Better pricing per user & more.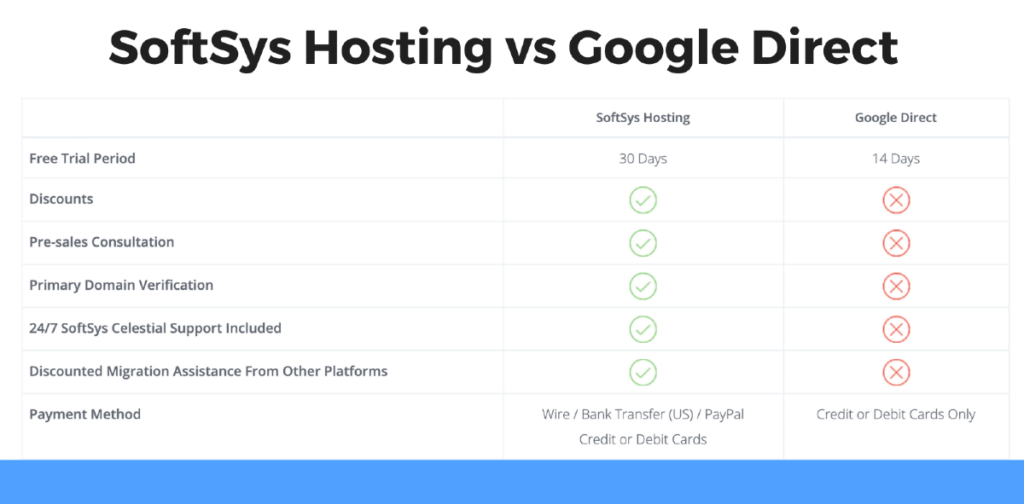 Get Started With Google Workspace
Experience the full potential of Google Workspace with a free 30-day trial. Click the button below to activate your *trial.
Offer limited to one (1) trial per customer.
Maximum of 10 users only. For more than 10 users, a paid plain is required.
Existing G Suite or Google Workspace subscriptions cannot be moved to trial.
No Credit/Debit Card Required.
The trial will auto-expire at the end of 30 days unless renewed.