Last week we've provided you with some of our best tips to help you choose a reliable hosting provider.
This week, we're taking it a step further.
We've talked to clients, partners, developers, and more to identify the top things to look for when choosing a reliable web hosting provider.
Based on this we've settled on four features that are essential to any good web hosting provider:
Speed
Uptime
Technical Support
Security
1. Speed (Fast Servers/Website)
We've recently asked developers and IT professionals across several LinkedIn groups which feature was most critical to their business.
We've got a response from 79 users over three days. Yes, we know that number of respondents is not high enough. Nevertheless, we enjoyed seeing how everyone responded and we want to share the results with you.
These four features were ranked according to the percentage of total votes that we've received. More than half of the respondents said that speed is the most critical feature they were looking for.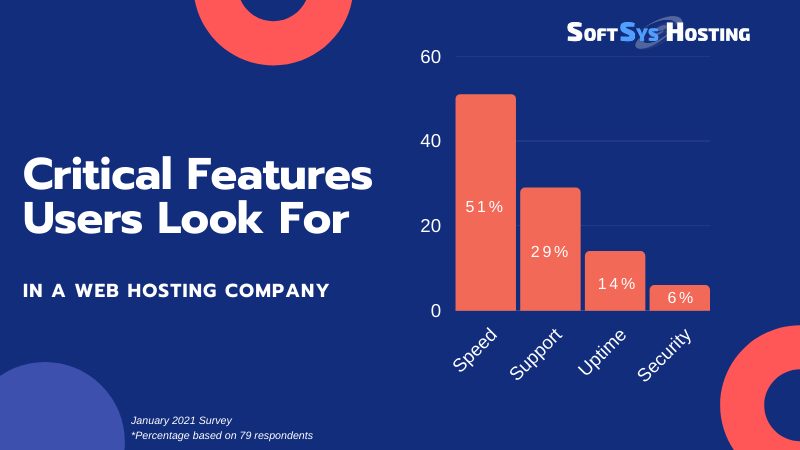 So WHY does speed matter?
A website's speed or load time is significant for a variety of reasons:
It affects your bounce rate – slow pages lose website users fast! In a 2019 report by Unbounce nearly 70% of the respondents admitted they are less likely to make a purchase from a slow website.
It affects conversion rate – a 1-second delay in page response can drop your conversion rate by 7%!
Has a direct impact on customer satisfaction and as a result, can affect your churn.
It affects how your website ranks in search results. In 2010 Google officially introduced speed as one of the ranking factors for desktop and in 2018 they've applied this to mobile searches as well. The recommended page load time is under 3 seconds, says Google.
What's the solution?
While there are many factors that can affect a website's speed you should verify that your web hosting provider has up to date technology and hardware to ensure that your website runs at a fast speed.
Here are three questions to ask when evaluating the server speed of a hosting provider:
SSD or HDD Storage?
HDD (hard disk drives) use platters that move and spin. Eventually, these platters will wear out and start failing. Unlike HDD, SSDs (Solid State Drives) have no moving parts that can break or fail. SSDs use flash memory-based transistors which offer faster data transfer speeds. In other words, SSDs are architecturally designed for higher performance, providing faster storage and lower latency than HDD. If you have a choice always choose a server with SSD.
What Type of RAID Is Used

?
RAID stands for Redundant Array of Independent (or Inexpensive) Disks. It's a way of storing data across multiple physical disks for increased speed and performance.
There are different levels of RAID.
A RAID 10 disk is one of the most efficient and highest performing levels, combining both RAID 1 (mirroring – or writing data on two or more drives) + RAID 0 (striping – or dividing data across multiple areas).
A RAID 10 disk will deliver a fast and redundant solution.
Check out this video from Spiceworks to learn more about RAID and the different levels.
Is There a

Content Delivery Network (CDN)

Service?
A CDN is a highly distributed network of servers or POPs (Points of Presence) that work together to provide fast delivery of content over the Internet.
This is possible by caching the content of your website and delivering it from a server closest to your website's users. In most cases, the content cached is only static content, but some providers, such as Cloudflare, also offer options to cache dynamic content, through their Railgun web proxy system.
There are different CDN services out there but the most popular by far is Cloudflare CDN. With POPs in over 200 cities in more than 100 countries, Cloudflare has become the CDN of choice for many website owners today.
Some hosting providers will offer a CDN service as an included or optional service because it is highly effective in increasing a website's speed.
2. Uptime Guarantee (Availability)
One crucial thing to consider when choosing a web hosting provider is the Uptime Guarantee or service availability. Uptime is important because it ensures your website is available online to your users. Poor uptime will have a direct impact on your business.
Let me start by saying this: no web hosting provider can guarantee 100% uptime all the time! Not unless you have a complex setup with replicated servers across multiple data centers.
There are some things a hosting provider can do to ensure high uptime.
Here are three things to consider when evaluating a web hosting provider's uptime:
Redundant Network Devices
Redundant network devices highly reduce the risk of downtime in the event of network failure by swapping network operations to the redundant device in an outage.
ISP Connections
Something that is not often taken into account is the type of ISP connection a web hosting provider uses to connect their routers to the Internet. The ISP connections can be single-homed, dual-homed, or multi-homed.
Single-homed connection – means that you have a single connection to a single ISP. While this highly reduces costs for the hosting provider and for you, the end-user, this is the least reliable connection. If the ISP goes down or if there is any breakage in the connectivity, it will cause downtime.
Dual-homed connections – you still connect to a single ISP but with two routers, so you have two separate connections, two circuits. This approach offers some degree of redundancy, since it has two connections. However, it still poses a lot of risk if the ISP goes down, has a maintenance event, or has internal routing issues.
Multi-homed connections – also known as multihoming, means you connect to two or more ISPs. This type of connection offers the highest degree of redundancy, performance and stability. Any reliable hosting provider should offer a multi-homed connection.
Another thing to consider with multi-homed connection is the routing. You need to ensure a web hosting provider has an optimized routing process that can analyze traffic and choose the best and fastest path for your traffic.
At SoftSys Hosting we do this by using Noction Intelligent Routing Platform (IRP) to route our traffic through our multi-homed connections. By analyzing traffic at the network edge (WAN edge), Noction identifies congestions and blackouts and reroutes your traffic towards the fastest and best-performing path. This in turn reduces latency by up to 40% and increases performance.
Service Level Agreement (SLA)
A reliable hosting provider should have a documented SLA publicly available on the website. The SLA will define the level of service that you can expect from your hosting provider. It will also address financial penalties for cases in which the hosting provider fails to meet the level of service that was stated. The SLA should also include the Network SLA which states the uptime guarantee.
3. Technical Support
"It's the level of support that makes a great host stand out! The others should really be a given." – says Alex Wells, Website Developer at Simpsons Creative, a full-service creative agency based in the UK.
Technical support is the backbone of any reliable hosting company.
Here are some critical things to consider when evaluating a web hosting company's support:
Support Staff Available 24/7
Issues can occur at any time, and often are beyond your control. A reliable web hosting provider should have staff available 24/7 to support your business. Response time – in a lot of cases the SLA will define the response times based on issue priority. If it's not stated in the SLA find out what the average response times are so you are not caught off guard.
In-House Support
A support staff that's available in-house and not outsourced will always provide superior technical support. In-house technicians have excellent knowledge of the company's services and can respond immediately when issues arise.
Managed Server or Unmanaged Server
Everyone comes from different backgrounds and has different priorities. If you have an in-house IT department or prefer to manage everything yourself you might choose to have an unmanaged server.
However, if you don't have an IT department, if you don't have the time to manage a server, or simply prefer to have an additional layer of support you can opt to have your server fully managed by the hosting provider.
Typically, that includes at a minimum system/server administration support, server and application updates and patches, managed backups, and proactive monitoring.
4. Enhanced Security
Every day we read about a new cyberattack taking down well-established businesses. What does this tell us? Security cannot be overlooked these days!
Good security starts at the data center level and goes down up to the individual server level.
A reliable web hosting provider should take and offer a variety of security measures. We've got six for you:
SOC compliance
A System and Organization Control audit (SOC) certifies that an organization protects and securely manages a customer's information. It audits how a service provider complies with one or more of the following principles: security (required), confidentiality, processing integrity, privacy, and availability.
24/7 Network Monitoring
All network infrastructure should be monitored 24/7 to quickly identify any potential issues.
DDoS Protection
Distributed denial-of-service (DDoS) attacks are growing rapidly in volume and frequency and becoming one of the most. DDoS attacks are anticipated to grow to 15.4 million by 2023. That's nearly double the number of attacks since 2018. DDoS protection, either at the data center level or the server level is thus a critical security measure to consider when evaluating hosting providers.
Network Security Solutions
Network security solutions such as firewalls, IDS, and IPS are critical for cybersecurity.
A firewall keeps hackers and bad actors out of your server. An Intrusion Detection System (IDS) identifies possible security breaches or intrusions at the network or server level. An Intrusion Prevention System (IPS) creates rules to automatically block malicious access identified by the IDS. All of these are critical security solutions that the hosting provider should make available either as part of your plan or as an added service.
Malware and Ransomware Solutions
With the high increase in cyberattacks, you need to pay extra attention to server security. A good web hosting provider should be prepared to offer solutions that can protect your server from malware and ransomware attacks
Ongoing Backup Solutions
Backups are often underrated. But the truth is anything that is not properly backed up could be lost in seconds. A good web hosting provider should offer ongoing backups solutions with multiple retention options that allow for easy restores.
About SoftSys Hosting
At SoftSys Hosting we provide a complete suite of web hosting and related business services from our 4 datacenter locations: Denver, Chicago, London & Singapore.
Our primary goal is to help your business succeed. When you're doing great, so are we!
We provide high-performance servers with pure SSD RAID 10 disk array. We use 100% redundant Juniper network devices that eliminate single points of failure and can handle more packets with higher throughput.
With a team of 24×7 in-house experienced sysadmins and a 99.9% uptime guarantee, we take care of your entire IT requirements so that you can focus on growing your business.
If you are looking for a reliable web hosting company with stellar technical support, fast SSD servers, great uptime, and enhanced security solutions please get in touch. We'd love to learn more about your business and provide solutions that will empower your team to accelerate growth.
Contact us at [email protected] or +1-862-214-2255 (Ext 203).