So, you've decided to bite the bullet and take your business online.
Or perhaps you already have a successful online business and are looking for a reliable hosting provider to partner with as you continue to grow.
But what makes a web hosting provider reliable?
With hundreds of hosting providers out there finding the best one for your website is not an easy task. Don't worry, we've got you!
We've rounded up some of our best tips on helping you choose a reliable hosting provider.
What Is a Web Hosting Service and How Does It Work?
For those unfamiliar, a web hosting service is a type of service that stores the files and data of your website or application and serves them, or makes them available, over the Internet. These files can be web pages (text content), images, media content, scripts, and more.
Each website needs a home where it can live.
When you get a web hosting service you basically rent a space on a server for your website. In other words, a web hosting provider is like a digital landlord. Instead of leasing or renting space in a building, it rents space on the Internet.
A web hosting provider, therefore, is a company that leases or rents the technology and resources needed to make your website accessible over the Internet.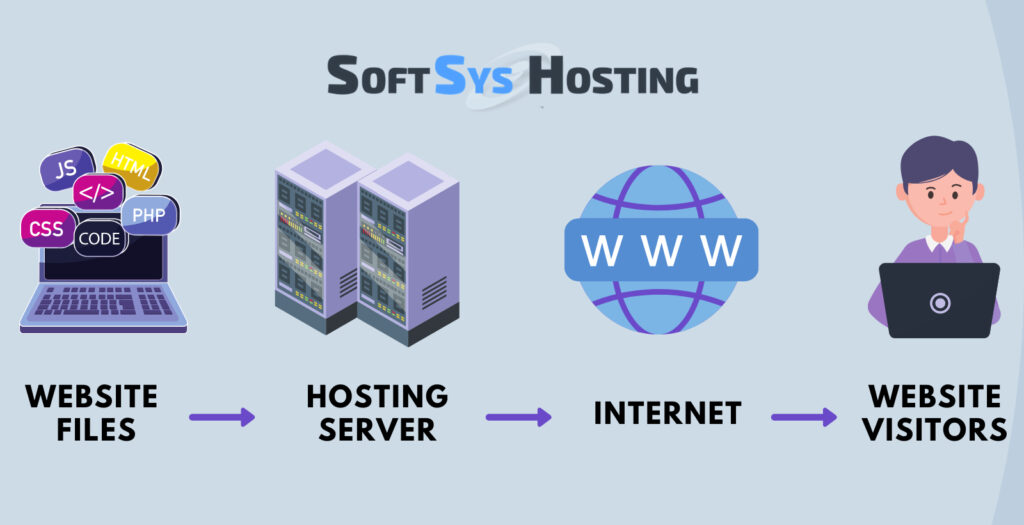 To make your website accessible over the Internet you need to:
Own a domain name.
Purchase a hosting plan.
Upload your files into your web server.
Point your domain to the server's IP.
When your website visitors type your website URL in their browser (Google Chrome, Safari, etc.), the browser requests the website information from the server that stores it, downloads the files, and displays the web page.
How Many Types of Web Hosting Services Are There?

There are a few different types of web hosting services. The most common types are shared hosting, VPS hosting, and dedicated server hosting.
As the name indicates you are sharing your hosting with many other users, sometimes hundreds of users. So, if your web hosting provider is your landlord, shared hosting is like having a small apartment unit in a large apartment complex. You share the complex with hundreds of other tenants.
The advantage of shared hosting is that the prices are lower. The server is also maintained and managed by the hosting provider. All you have to do is upload your website and start growing your business.
The disadvantage of shared hosting is that you get a small allotment of resources and you have less control over the server. You cannot upload custom applications or access the server from the command line.
In some cases, there is not a lot of insulation between the different users. If one tenant overuses their resource allotment it could have a negative impact on your service. This can be significantly reduced if the hosting providers use an Operating System such as CloudLinux OS, which offers better isolation and increased performance.
A private server, as the name suggests, is a server where all the resources are dedicated to you. If shared hosting is like renting a small apartment unit, with VPS hosting you get your own condo.
The advantage of VPS hosting is that you get more resources, better insulation, and full control over your server (SSH/RDP).
A VPS server also allows you to scale as needed. You can also choose if you want to manage the server yourself or have the hosting provider manage it for you.
The disadvantage of VPS hosting is that it's more expensive than shared hosting.
A dedicated server is like having your own private house. It provides the highest level of privacy and you don't share the building with anyone.
The advantage of dedicated servers is it can include a large number of resources.
The disadvantage of dedicated servers is cost. Dedicated server hosting is typically the most expensive type of hosting. Dedicated servers are also more difficult to manage and maintain.
There are VPS servers that can be just as large or powerful as a dedicated server.  However, some companies might still prefer to use a dedicated server due to the higher degree of privacy offered, or due to various compliance requirements.
How To Find a Web Hosting Provider?
Ask a friend
If you have a friend, colleague, or business partner who has a website, ask for web hosting referrals. This is the BEST way to find a reliable hosting provider. You can learn from someone else's experience.
But make sure the referrals you are getting are meeting your requirements and expectations.
Everyone has different needs.
Just because your friend/business partner is pleased with his/her Windows hosting provider, it doesn't mean it will work for you, if you are looking for a Linux provider.
Go through your list and get specific information based on your own requirements.
Do Your Own Research
Another good way to find a good web hosting provider is through old fashion research.
Start with the obvious. Do a Google search and be as specific as possible.
Some examples of popular searches include: "managed vps hosting," "linux vps hosting," "shared windows hosting".
Check Online Reviews
Once you have identified your requirements and done your research, make a list of all the hosting providers that fit your needs.
Do your due diligence and find user reviews for the providers that match your requirements. Make sure you use reviews from reliable sources such as Trustpilot, Google Reviews, or G2.
Check Blogs and Social Channels
To a lesser extent, check which providers have a social media presence and periodic website updates. This will give you a sense of whether or not the hosting company is actively working on improving its services and communicating with its online community.
Is It Easy To Change Web Hosting Providers?  
Changing web hosting providers can be a daunting task. If you use a Control Panel such as cPanel/WHM or Plesk and the destination provider uses the same Control Panel it's a matter of copying your data from the old server to the new server using internal migration tools.
If you migrate to a different Control Panel or don't use one at all, it's a much more complicated task. In either case, if you're not a developer yourself you need to make sure you have your developer on standby to test the migration and assist with any possible issues that arise.
A reliable web hosting company should offer you either a free migration or a discounted quote for assisting with the migration.
When choosing your web hosting provider, you should:
Have a monthly budget.
Estimate your monthly traffic.
Understand the different types of web hosting services (Shared, VPS, Dedicated).
Estimate your server's resource requirements.
Define the location – where are you and your website visitors are located.
Know what application your website is built with (Java, WordPress, Magento, etc.)
Get a sense of how much support you expect to require. Do you need a fully managed server, unmanaged, or something in between?
Most of these are pretty straight forward, but identifying the resource requirements often poses a challenge.
If you are completely new to web hosting, your web developer should give you an idea about the resource requirements.
If this is an existing website you can get this information from your current web hosting provider.
Coming Up Next
You are now equipped with all the tips needed to find a reliable web hosting provider.
If you've enjoyed this article check out the second part of this blog post series: Key Features to Consider When Choosing a Web Hosting Company
Need assistance choosing the best web hosting plan for your needs?
Get in touch!
We would love to learn more about your business and provide a solution that will accelerate your online growth.
Contact us at [email protected] or +1-862-214-2255 (Ext 203).