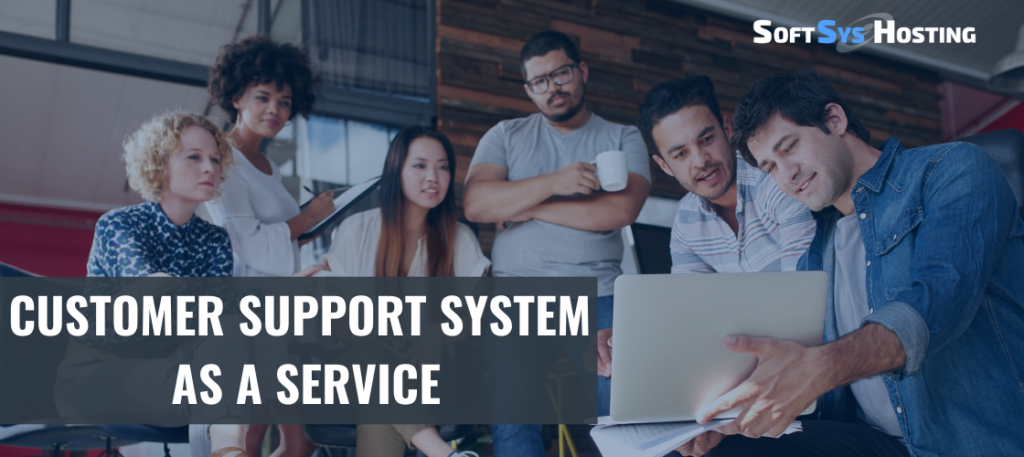 We are thrilled to announce the availability of an affordable, enterprise-grade customer support system with complete data-privacy for your organization.
As a 24/7 business with customers all over the world, we understand first-hand the importance of a reliable help-desk solution.
We've been using multiple customer support software for the past 14+ years. We know a thing or two about what benefits should it deliver to your business and your customers.
There's an extensive list of features a help desk solution should have. But we have found these seven customer support system features to be an absolute must-have:
It should provide a shared and unified inbox.
It should allow you to measure customer satisfaction.
It should have good performance reporting.
It should allow customers to help themselves (aka support a knowledgebase).
It should be easy to set up or migrate to.
It should provide privacy for your data and your customers' data.
With these in mind, we have bundled a reliable customer support software, powered by SupportPal with our scalable and fully managed cloud environment, to address all your needs and more.
Oh! And by the way, we are using this solution ourselves internally.
That's right!
We would not try to preach you anything we haven't used ourselves first. If you are a SoftSys Hosting customer, you have already seen the customer-facing side of the help desk software.
HOW YOU CAN GROW YOUR BUSINESS FASTER WITH SOFTSYS HOSTING
Our Customer Support System as a Service delivers the following benefits:
Enterprise-grade help desk software
Reliable, scalable & fully managed cloud environment
24/7 Monitoring of your environment's availability
Daily backups of your cloud environment with multi-day retention period
Affordable pricing
WHAT MAKES OUR CUSTOMER SUPPORT SOLUTION BETTER THAN OTHERS?
Three key aspects:
1. Data Privacy – You have complete control over your data.
2. Private Server – Your help desk system is hosted on a private server, not shared with any other customers.
3. Transparent Billing – there are no "per user" charges or any other limitations on the number of support requests. Start for as low as $75per month.
Let's look at the features included with the help desk software solution.
HELP DESK SOFTWARE FEATURES & BENEFITS
Keep All Messages in One Place With a Unified Inbox
Deliver excellent customer service across multiple channels with a unified inbox:
Get requests through Web forms, API, Email, Facebook, Twitter or Help widgets.
Automatically convert support requests from multiple support channels into tickets.
Group Tickets Together With Multiple Filters and Tags
Easily organize your tickets with the use of filters, priorities, tags, and more. Recognize important conversations or prospects right away!

Enhance Team Collaboration
Create department groups and operator roles for easier communication across departments.
Manage all customer conversations in one place with a shared inbox for each department
Avoid agent collision by seeing in real-time if another agent is looking or replying to a ticket
Add private ticket notes and internal messages.
Support Multiple Brands With One Installation
Increase efficiency by supporting multiple brands with a single help desk installation.
Customize the look (colors, logo) for each brand according to its needs.
Increase brand recognition with custom domains and email signatures.
Offer Multilingual Support
Support you customers in their own language!
Create translations for your own text (knowledgebase and email templates). The software will display the correct version will be displayed to the user automatically, based on their selected language.
Increase Productivity With Automated Tools and Tasks
Create canned responses to common ticket replies
Run multiple actions on tickets with a one-click or automated macro
Create follow-ups with multiple actions
Set escalation rules on overdue tickets
Manage Customers Efficiently
Create 'organizations' for customer accounts.
Add users with multiple email domains to an organization.
View ticket history for your customers individually or at the organization level.
Support Your Customers the Way They Need It
Set priorities for customer tickets
Help your customers find answers easily by creating an online library of information (Knowledgebase, FAQ, Policies, etc.
Always Know What Your Customers Are Thinking
Allow customers to comment on, or rate your articles
Gain insightful feedback from customers with feedback forms on tickets

Use Data to Improve Performance and Customer Service
A powerful reporting dashboard allows you to track staff performance and customer activity, gain insights into customer feedback and ratings, and more. Improve the performance of your staff by knowing:
What are the busiest times, days, or months? Do you need more staff on some days?
What types of requests are more frequent? Create canned responses to improve response time.
Which support channels do your customers use?
Learn which user guides or articles are helpful to customers and which need to be improved.
How are your customers rating your support? What kind of feedback they provide?
And more.
Make It Your Own!
Customize the help desk system to match your company's look and feel. Built your own custom plugins or use our available plugins and integration:
Available Plugins: Blesta, Slack, Time Tracking, WHMCS, WooCommerce.
Existing Integrations: Blesta, LDAP, SAML, TrackingTime, WHMCS, Zapier.
All things aside, our goal is to help your business succeed!
You know that saying? Happy clients, happy us!
A reliable and easy to use customer service software will improve the performance of your staff. But more importantly, it will help improve the relationship with your customers.
We went through a lot of information, I know!
But if you're only going to remember a few things from this blog post, remember these five takeaways on how to deliver excellent customer service through your help desk software.
TOP FIVE TAKEAWAYS TO DELIVER EXCELLENT CUSTOMER SERVICE
Manage all your customer conversations from one place with a unified inbox
Enhance customer service with the use of ticket tags, follow-ups, and priorities
Help your customers get information or learn about your service on-demand with an external knowledgebase, FAQ, or blog
Get input from your customers with feedback forms and article comments
Use built-in reporting tools to improve performance and customer satisfaction
LET'S TALK MONEY – HOW MUCH DOES IT COST AND WHAT'S INCLUDED
The service starts for as low as $75 a month. There are no hidden fees, user caps or limitations on the amounts of tickets.
The $75 fee includes:
Managed cloud environment with complete data privacy
Your SupportPal help desk software license
Installation of your help desk software
Daily managed backups of your cloud environment
24/7 availability monitoring of your cloud environment
If you are looking to do a self-migration there's a migration script included with the help desk software.
The following migrations are supported with the migration script:
ArcticDesk v1.3.3
Blesta v4
Freshdesk
Kayako v4
Quest K1000
Sirportly v5
WHMCS v7
Zendesk
Are You Ready for an Affordable, Enterprise-Grade Customer Support Solution with Complete Data-Privacy?
Click to button below to schedule a free consultation and demo today!
ABOUT SOFTSYS HOSTING
SoftSys Hosting was born in 2006 when President Ruchir Shastri, back then a web developer, wanted to help software developers by offering them free of inexpensive hosting.
Since 2007 we provide a complete suite of web hosting and related business services from our 4 datacenter locations: Denver, Chicago, London & Singapore.
Our primary goal is to help your business succeed. When you're doing great, so are we!
With a team of 24×7 in-house experienced sys admins we can take care of your entire IT requirements so that you can focus on growing your business.
But don't just take our word for it! See for yourself what our customers are saying about SoftSys Hosting support and services:



If you are looking for a great customer service software or web hosting services, please get in touch. We'd love to learn more about your business and provide solutions that will empower your team to accelerate growth.
Contact us at [email protected] or +1-862-214-2255 (Ext 3).