We as a human species have evolved and found solutions to complex problems that we have faced throughout history. There are so many instances in history which disrupted the day to day life and eventually we, humans, have evolved, found solutions, and overcame such adversities.
Ever since the COVID-19 pandemic struck and disrupted life around the globe bringing down businesses and economies, we are adapting quickly to the changing paradigm of technology adaptation and implementation.
Let's look at the top changes that can be adopted to stay competitive in a post-COVID world:
Supply and Deliverables
During COVID-19, the existing supply chain mechanisms across the globe got disrupted. There were industries that were completely disrupted during the pandemic. Outdated methods and poor data management had a primary impact on this.
Going forward, organizations are now adopting big data, artificial intelligence, and cloud computing to make the supply chain more robust. Processes that can be automated are being prioritized with the ability to control remotely such processes thus requiring none or minimum human presence and interaction.
Internet of Things (IoT) is gaining traction in the logistics industry for transport operations, managing assets, and vehicle tracking, among others. Many companies are coming up with ideas that use automated vehicles or drone technologies for delivery.
Remote Work
In a pre-COVID world, remote working was an alien concept to many organizations. Many companies were opposed to this type of working style only to accept it eventually when it was the only option remaining. Some of the concerns organizations had towards working remotely were related not only with a potential decrease in employee performance but also with keeping business data secure, while working remotely.
During the pandemic, however, many organizations have adopted the work-from-home policy for an extended period, even declaring to continue it after the outbreak's impact mitigates.
For organizations that were already using the technology needed to make work from home successful, although perhaps not to its full potential, the adoption of this working style has been easy with minimum transition time. For others, there have been high cost and time implications as the entire process required restructuring and redesigning in a phased manner.
In a post-COVID-19 era, this trend is likely to continue with organizations investing a substantial amount in automating business critical processes and enabling remote working with more control with minimum interaction.
The use of digital technology has not only been confined to working, but virtual meetings, cloud technology, and work collaboration tools (including remote office tools such as Microsoft Office 365) as well have gained tremendous ground during the pandemic.
Digital Payments
These have been available for a long time but now they are becoming more important than ever. The use of digital payments has significantly increased over the past months. People are using them for everything from buying groceries to even making cross-border payments. Companies are implementing these methods to get client payments.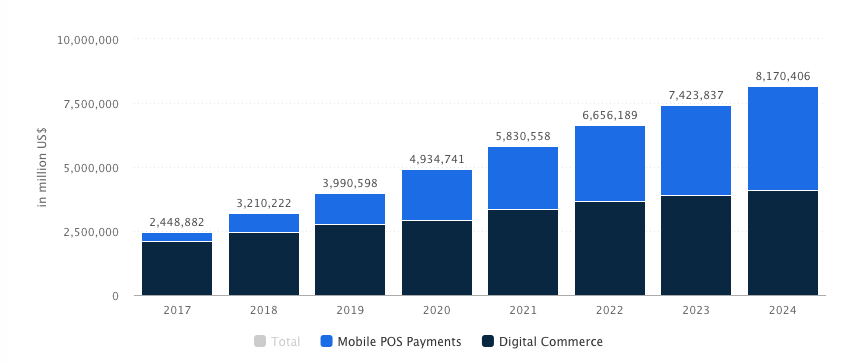 With the fear that cash might carry the virus, the trend of digital payments is a notable feature of the post-COVID world. Even organizations, there were reluctant earlier to adapt to these methods are now finding it very helpful as it has completely eliminated the need for physical delivery of invoices, bank cheques, etc. Billables are delivered through an electronic medium in no time with the ability to make online payments / automatic reminders in case the service/product remains unpaid. This has greatly reduced human interaction.
With the change in consumer behavior and an increase in online shopping, contactless payments will continue to be on the growth trajectory. Internet availability, devices, and secure networks for safe transactions are being addressed for expanding this further.
E-Learning
The most notable effect of this pandemic is certainly in the education sector with children affected by school closures. The education sector has been quick to adopt digital technologies, whether be it online classes or using AR-VR for making learning more exciting. Although it is not a permanent alternative, since physical interaction is also an important part of child development in their early years, e-learning will be incorporated at certain levels to add value to the existing methodologies. Schools were already teaching through computerized modules, for example, 3D audiovisuals to have a better understanding. COVID-19 will only fast track the processes and schools will be the first ones to implement the latest technologies in the education sector in their curriculums.
Size of the Global E-Learning Market in 2019 and 2026, by Segment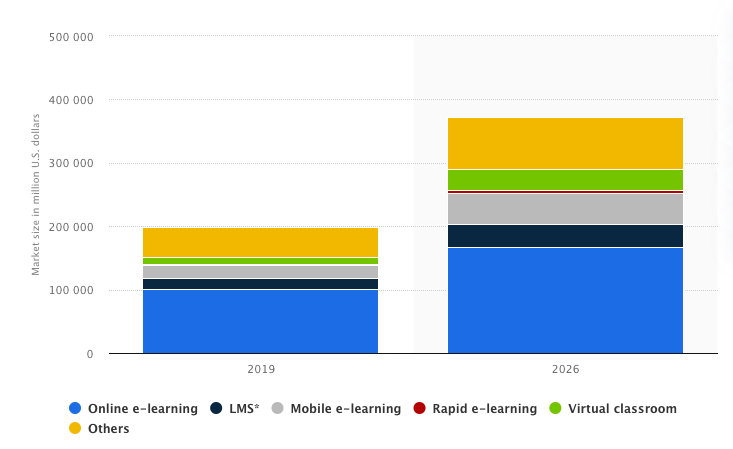 Many organizations are providing training modules to their employees online and working towards enhancing the learning experience. According to the stats, people have used e-learning modules extensively during this pandemic.