Digital marketing often seems like a challenge in itself. It's all anyone is talking about but when you try a new strategy it's tough to see results. It's as if you're missing out on a huge opportunity if you don't explore the world of digital marketing, but you can only invest so much without getting a return.

The good news is that you're not alone.
We've narrowed down the top challenges that small businesses face when it comes to digital marketing. Even better, we have the keys to overcoming them!
Persuading Company Leadership to Invest in Digital
Change can be difficult. When you've been successful using the same marketing strategies over the course of the business, it's tough to convince leadership within your company to take the plunge and try something new. This is especially true if they've had a bad experience with digital marketing in the past!

When approaching company leaders about a new strategy, it's important to lead with the bottom line. What results are you expecting to see from the campaign? How will you measure them? Speak in terms that they are interested and invested in. Revenue not reach. Sales not followers.
If all else fails, take a look at your competitors. Highlight the ways that they are beating you on digital platforms and share your plan to narrow the gap.
Insufficient Infrastructure
One of the key reasons that many digital strategies fail is that they don't have the proper infrastructure to support the campaigns. Before launching your digital marketing initiatives, make sure that you have the technology, partners, and tools in place to manage the campaigns from creation to measurement.

In some cases, this requires new software tools to manage email lists, automate responses, and capture information. For others, this is a broader-scale look at their technology infrastructure and evaluating everything from hosting to data storage.
Your website is the centerpiece of your digital marketing strategy, so ensure that it's functioning at a high level with full service hosting and maintenance.
Consistency
Digital marketing places a high value on CONTENT. Social media, blogging, webinars, podcasts… it can be exhausting! Many small businesses start with great intentions, but the content creation falls off as soon as things get busy. In order to avoid that lack of consistency, it's crucial to plan ahead.
Start by creating a content plan for the next 30 days. Then, identify who will be responsible for creating content. It's beneficial to have a single person dedicated to content creation so that the voice is similar across all platforms.
Finally, don't feel obligated to create content from scratch for every channel. Can you repurpose your blog posts into social media captions? Do you have white paper content that can be transformed into a webinar or podcast? Chances are that you have plenty of content available – the key is to share it with your audience!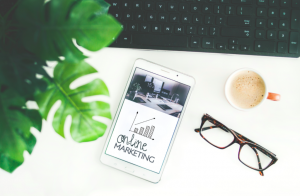 Proving Value
While digital marketing platforms offer an abundance of analytics, it can sometimes be difficult to tie those metrics back to true business success. The key is to start with extremely clear goals for what you want to achieve. For example, if you are running an ad campaign on Facebook, the metrics that Facebook shares will be things like link clicks, impressions, and reach. So, to set goals for the campaign, it's important to understand how many link clicks you need to convert the number of sales that you're looking for.

From there, stay consistent with your measurements. Set aside a time each week or month to evaluate the performance and tweak to optimize success.
Lack of Clarity
If there's one thing that you take away from this blog post: don't try to do everything! The digital marketing strategies and options that are available and trendy can be overwhelming, so avoid the temptation to try everything that you hear about. It's much more effective to do a few things really well than to get burned out on trying each new thing that comes on the market.

If you're struggling with how to choose a path forward, let your clients be your guide. What channels to they spend time on? What is important to them? What type of content are they interested in?

Focusing on your ideal client and connecting with them online is the key to success in this crazy world of digital marketing.