Over a period of time, many industries have spent huge amount of resources and money for managing their server onsite and offsite as there were near to no options available in the past for this. Thanks to evolving hosting industry, we now have quite a few options available which enable these industries to offload IT tasks to specialists without the need of maintaining / managing IT equipment onsite. This will help businesses to focus on their core area when their IT requirements are taken care of by experts.
Fully Managed hosting services typically include the server (VPS or Dedicated Server or Cloud Virtual Machines) along with management services bundled at one cost with one point of contact. It is important to note that not all hosting providers provide managed services since they need to have experts available on 24×7 basis to provide premium technical support and monitoring + managing the infrastructure efficiently. Hence, it is important parameter to consider while choosing a server provider along with understanding the fine print of management services provided by them (if any). We're including few basic features of managed servers that you can look out for while shopping for best managed server hosting.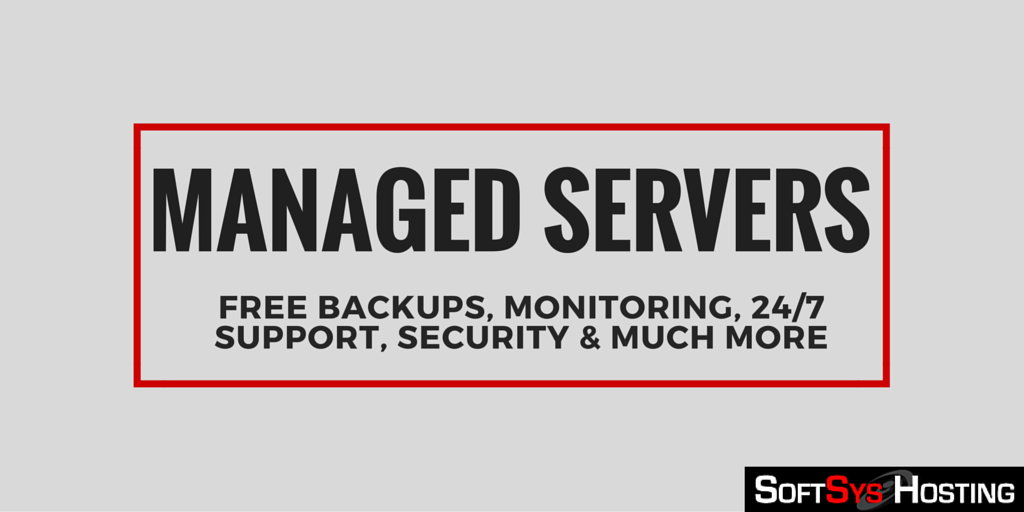 1) Initial Server Setup – Your server will be setup / provisioned as per your requirement including installing and configuring the operating system of your choice (Windows / *Nix) along with  specific roles and components (web server, mail server, database server, file server, DNS, etc).
2) Initial Server Hardening / security – This is actually a key component whereby you need to ensure that your server is secured and hardened by experts. This typically includes operating system security patches, TCP/IP hardening, securing your mail / database server to avoid spamming and intrusion, disabling dangerous scripts, etc.
3) Disaster Recovery Plan – Each server and setup is typically prone to fail / crash at some point in time during its life cycle due to various internal and external factors. Using enterprise class hardware along with having redundancy wherever possible (eg. RAID for storage) helps in minimizing the impact to a great extent. However, it is important to devise an efficient disaster recovery plan to recovery as soon as possible. Typically, this should have off server daily backups with sufficient amount of retention points so that you can restore from past backups as well in case the most recent one doesn't work for any reason. We use R1Soft server backup solution for this purpose and it has been very solid and efficient over years.
4) 24×7 Monitoring of server – You will never like to have your customers or website visitors to let you know that your website / server is inaccessible. It is very important to ensure that your server and critical services are monitored on 24×7 basis so that you can be on top of the issue before noticed by end users. We use PRTG Monitoring System which monitors health and access of each managed server on 24×7 basis. In case of any issue, our 24×7 support team is notified by email and IM system so that they can immediately look into the issue (much before the owner of server is notified by their end users or customers).
5) Managed Operating System & Software Updates – We have known that there are various threats / security alerts that are published frequently. In order to protect your server, it is important to ensure that your operating system and software is kept up to date with latest releases and updates. Your prospective managed hosting provider should be handling this aspect as part of managed services.
6) Regular Server Security Audits – After securing the server initially (point 2), it is also important to perform a regular audit of server to address any new security alerts and/or review firewall settings, event logs, etc to ensure that there has been no loopholes / intrusions in the server.
7) 24×7 Available Expert Technical Support Team – Each website / server owner would like to ensure that their server and website is operating smoothly at all times (most importantly while they are on vacation or taking a break or during high sales season). In case of any issues, you need to ensure that you have easy and fast access to technical support team who can look into your issues and assist you to ensure smooth operations. Technical support team should be efficient enough to be able to diagnose the issue and fix it immediately. This is a very important factor of Managed services.
Since each web host will have different features / terms of managed services, it is very important that you understand the finer print of management services before falling for "Managed Server" as it is used for marketing by many hosts.
Softsys Hosting provides Fully Managed Windows VPS and Managed Dedicated Servers which covers all of the above features to provide 100% satisfaction to end users and businesses. We have helped businesses to lower their IT costs by several thousand dollars as they can now leverage our feature rich managed hosting services at very affordable costs against spending on in house resources and infrastructure.